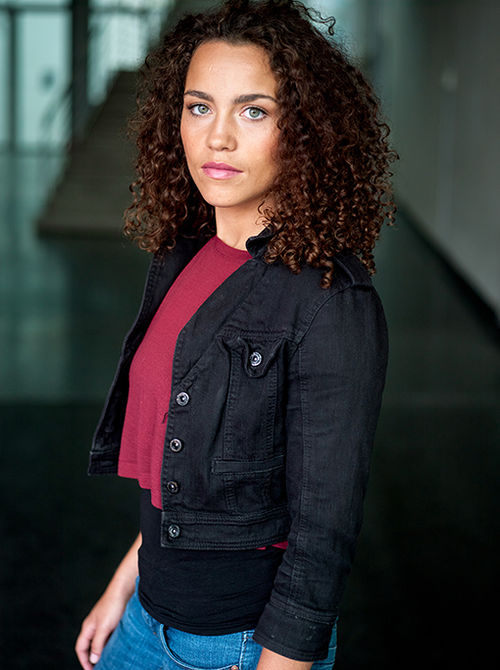 Rahel Johanna Jankowski graduated from the Hochschule der Künste in Bern in 2014. Even before her training, she played the role of Latifah in Verrücktes Blut at Ballhaus Naunynstrasse, which was invited to the Theatertreffen in 2011. In 2013 she performed in the student project 7 Days of Uglyness at the Theater Basel and at the Züricher Theaterspektakel, which was awarded best play at the Skena UP international Students festival in Pristina.
Since the 2013/14 season, Rahel has performed at the Maxim Gorki Theatre in Berlin in productions including Es sagt mir nichts das sogenannte Draußen (text: Sibylle Berg) and since 2015 in Und dann kam Mirna (Friedrich Luft Prize 2016). At the Kasemattentheater in Luxembourg she can be seen as Titania in the play Lampedusa in 2015.
She has worked with Meret Matter, Olivia Wenzel, Nurkan Erpulat, Sebastian Nübling, Tobias Wellemeyer, Bérénice Hebenstreit and Jens Hillje, among others. In 2016, her theatre collective work We are the Universe premiered at Ballhaus Naunystrasse. In her years as a freelance actress, she worked internationally for film and theatre in productions and guest performances in Brazil, Luxembourg, Switzerland (Schlachthaus Theater Bern, Züricher Schauspielhaus, Stadttheater Bern) and Sweden (Royal Dramatic Theatre), among others. From 2018 to 2020 she was a permanent ensemble member of the Vorarlbergeger Landestheater and is now working again as a freelance actress, performer and musician.
Past roles: