In March 2015 Germanwings Flight 9525 on route from Barcelona to Düsseldorf was flown directly into a mountain in the French Alps by its co-pilot. 150 people lost their lives.
In October 2013 a boat that had set off towards Europe from the coast of Libya sank off the Italian island of Lampedusa. More than 360 people died.
In November 2015 three men entered the Bataclan in Paris and started shooting. 93 people died.
We experience disasters like these principally as media events. These usually focus on the question of who is guilty. But what if we look at these events differently? What would happen if we could accept these painful incidents of our present, what if these moments of collective death can tell us something about our relationship with each other in life?
Questions like these are examined by the Dutch artist Lotte van den Berg in her participatory performances Dying Together. The performers invite the public to take part in an exercise in thinking: audiences turn into participants by forming certain arrangements within the space based on the therapeutic method of "family constellations".
While in Part 1: Humans the focus is mainly on constellations between people, the world premiere in Bochum of Part 2: Earth focusses on animals and plants. If we recognise that we humans are part of a larger ecosystem, then what is our relationship to a nature that is dying?
more
less
Language: In englischer Sprache mit deutschen Übertiteln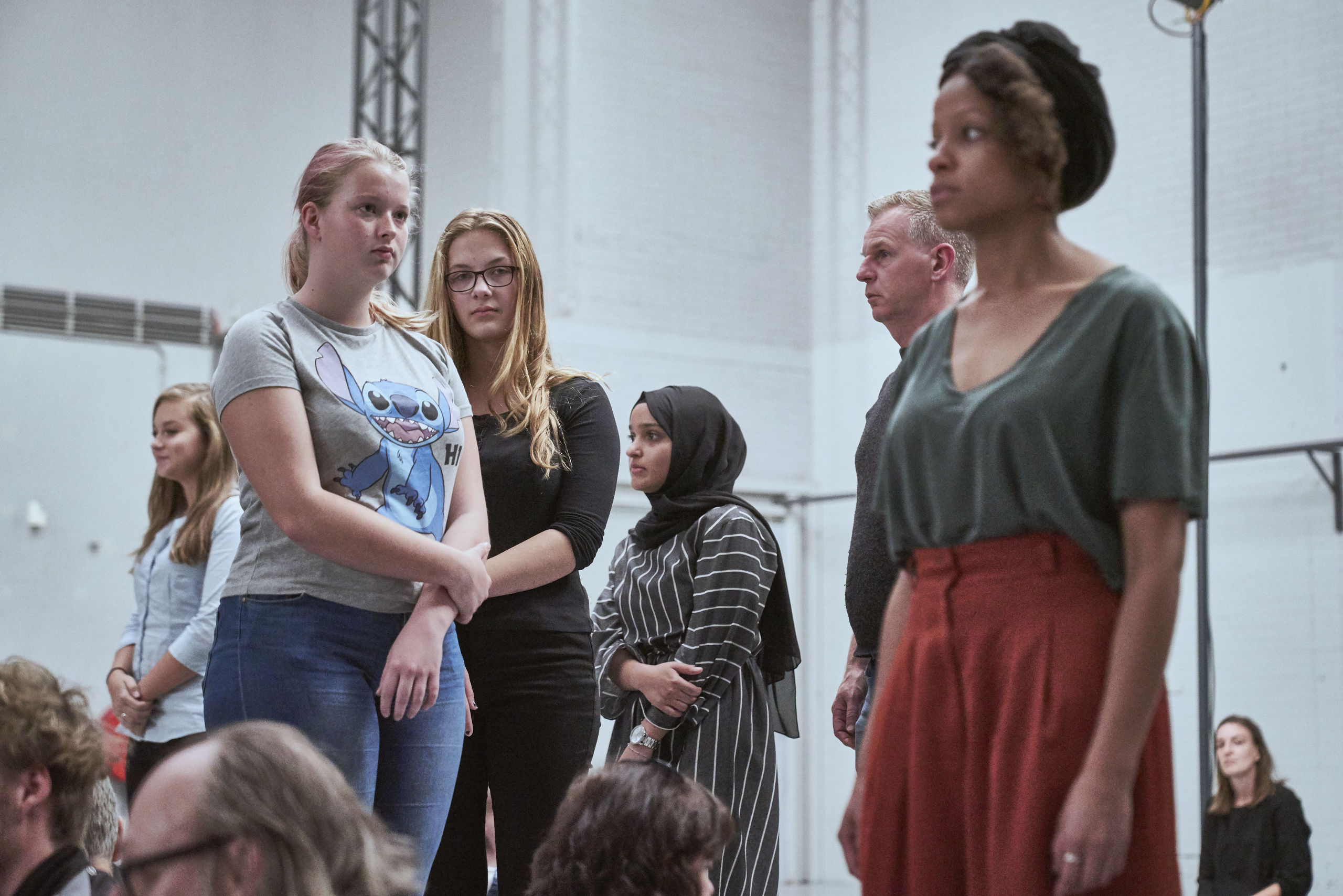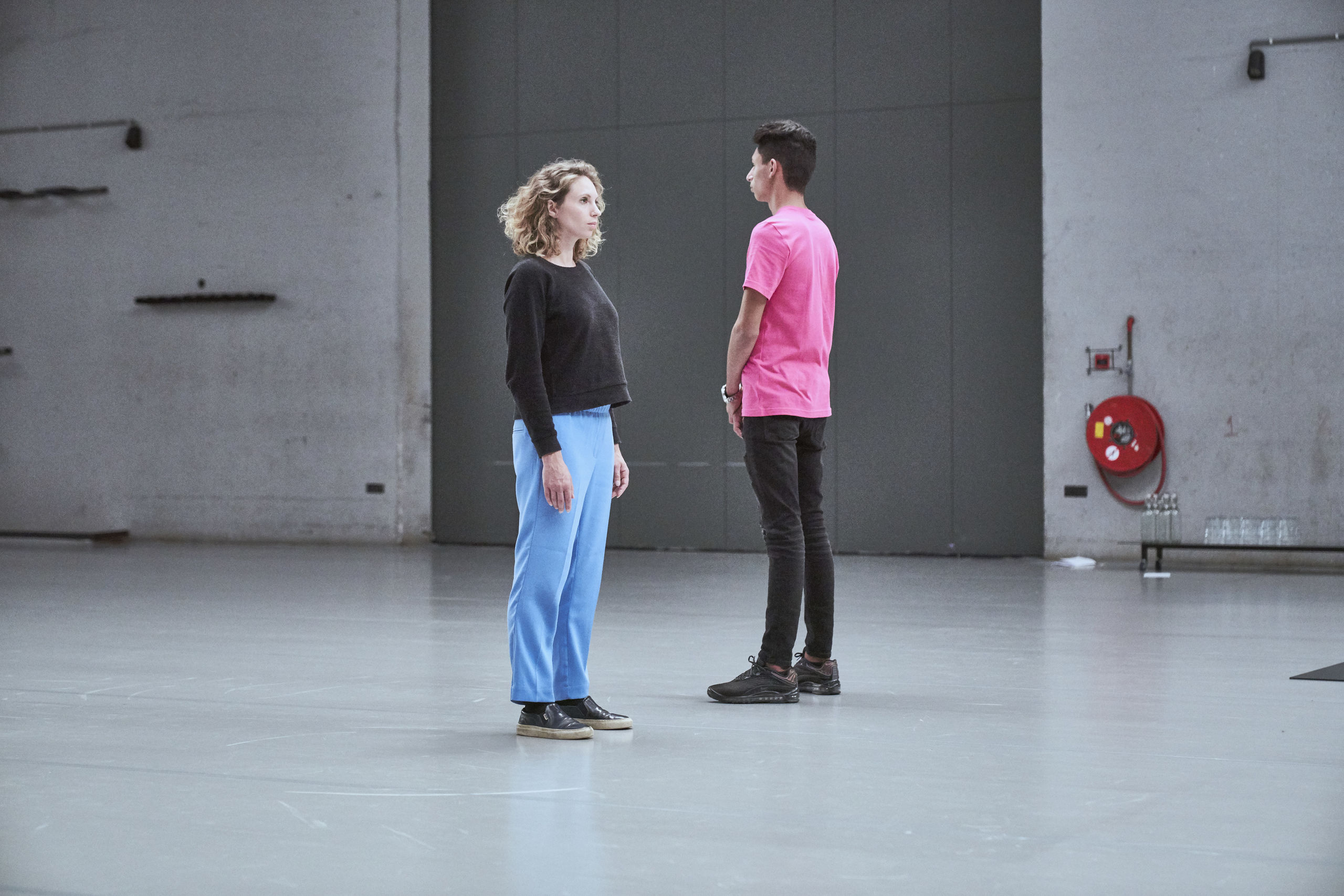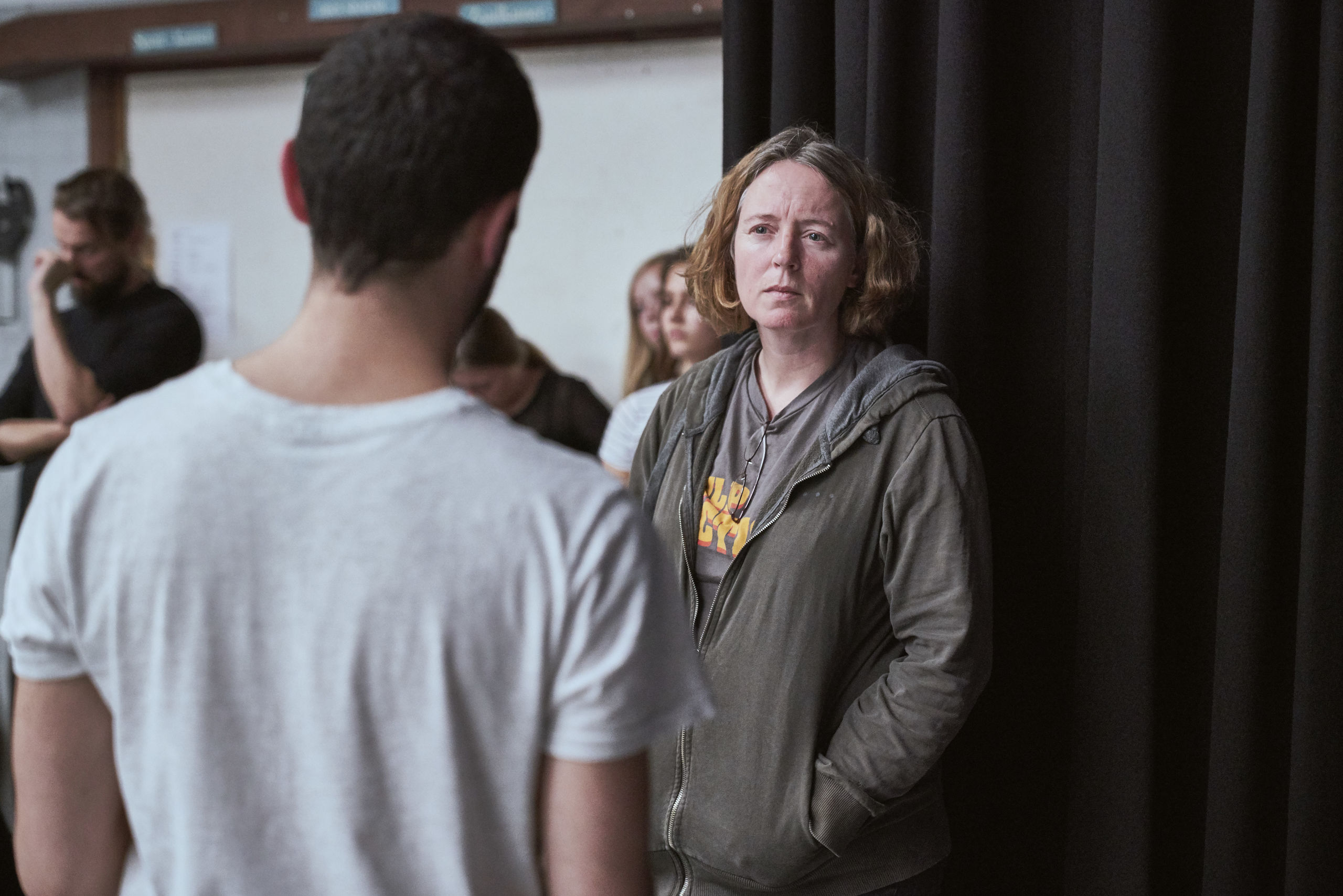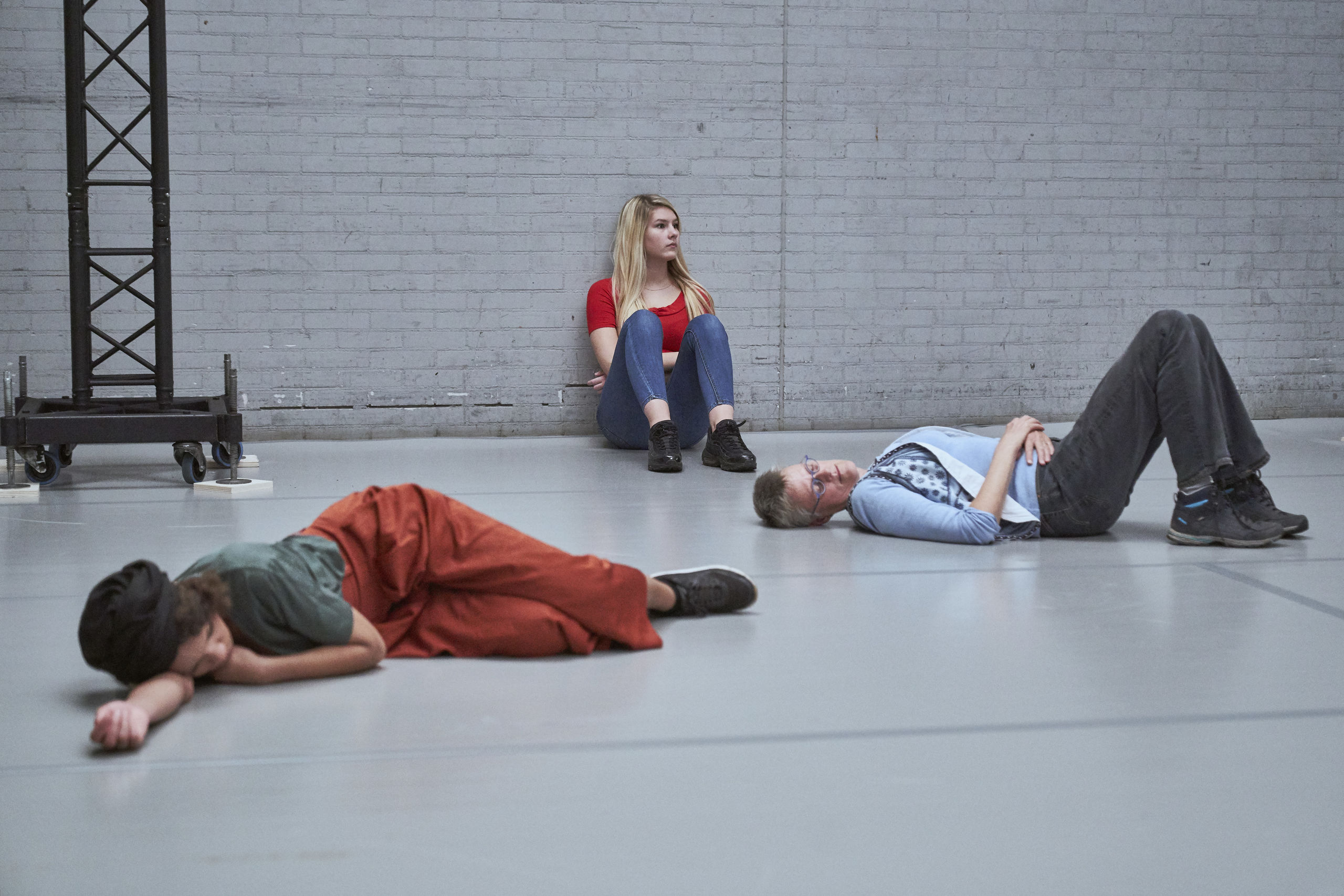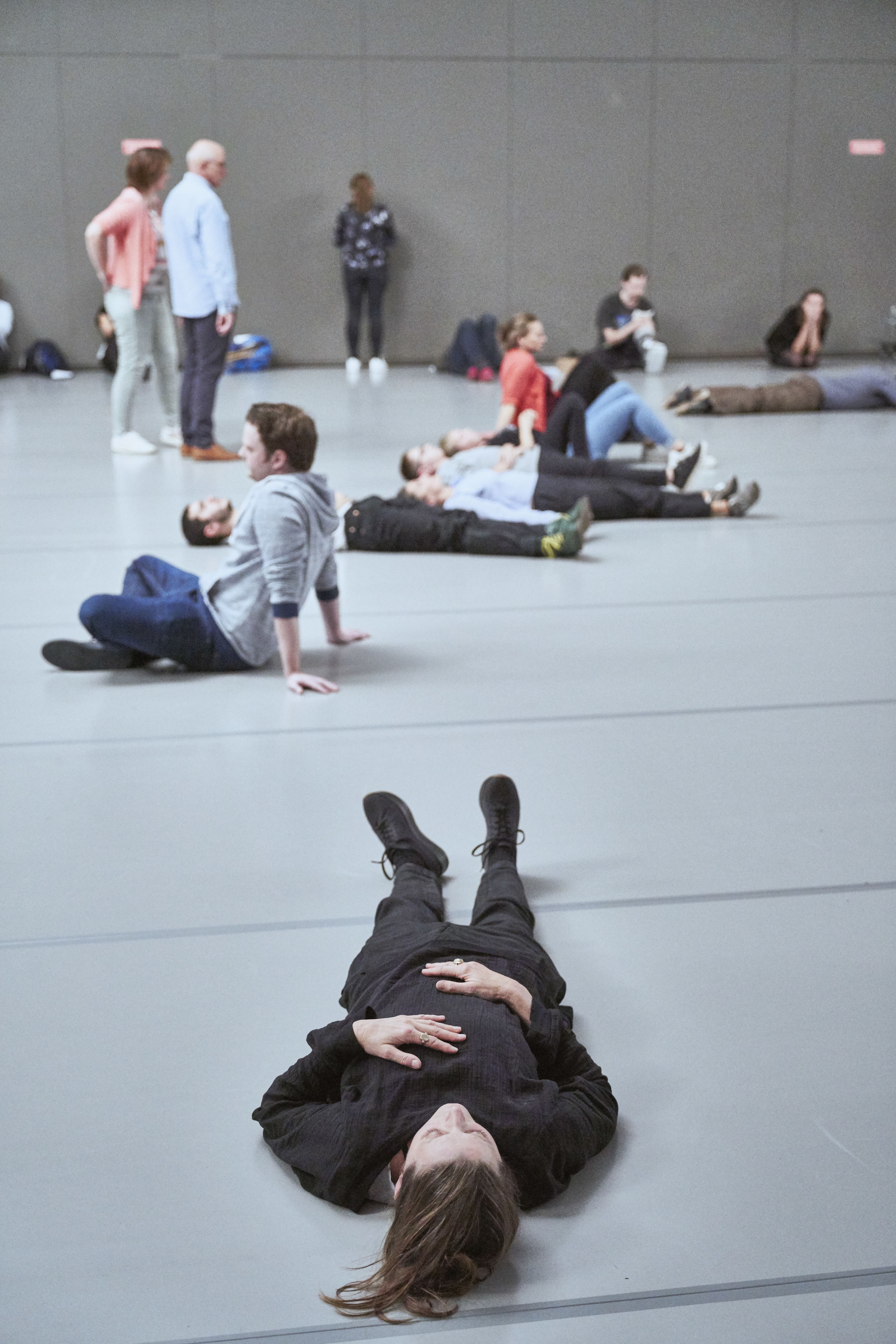 A co-production with Third Space, Theater Rotterdam, Festival BLVRD, Vooruit, BUDA, BIT Teatergarasjen, Nanterre-Amandiers
Funded by Fonds Podiumkunsten, Amsterdams Fonds voor de Kunst, VSBfonds, Ammodo, Fonds21, advancing performing arts project – Programm Kreatives Europa der Europäischen Union
Press voices:
What part of ourselves do we project onto others when we step into their shoes? What does our unease say about how we relate to the group or the world in general? [...] Lotte van den Berg seems unafraid of the deep. She creates a simple framework, builds on thorough research, offers precise words free of pathos, allows time for silence and lays rules and boundaries bare. This is how Dying Together takes us to a dimension outside time where our most fleeting sensations take shape, at the intersection of our innermost conflicts and hundreds of lives that are brought into focus.
La Libération, Cathy Blisson
At a time when the whole world moves to the same rhythm (screams, cries, breakdowns, fears) Dying Together offers us another possible ritual. One that is peaceful, contemplative. In this shared space audience members are asked if they'd like to participate. Those who decline are not excluded, because that's a legitimate form of participation, too. By incorporating writing, thinking and participation, Dying Together utilises simple actions. Such as being somewhere, with other people, shortly before dying. Or while dying. Or after death. Always with respect for the events that are referenced. Dying Together is a moment of collective maturity that short circuits indifference.
paris-art.com
With her assignment to represent 'neutrally', Van den Berg leads us, with gentle insistence, to a space where we can empathise without making an immediate judgement. Whether or not we accept this assignment. Because she also encourages those who refuse to consider their motives: what is it about that perpetrator that I'm so opposed to?
As a Syrian Air Force man, I start walking through the space, looking for some kind of connection. Suddenly, I face a man who stares at me intently. I stare back, until he averts his eyes and walks away. It feels like a small victory. Especially for the Syrian who, for a brief moment, I represent. And for myself, too. Because Dying Together brings a group of strangers, random theatre visitors, closer to the abstract dead and perpetrators that make international headlines.
De Theaterkrant, Joost Ramaer
More press voices
Dying Together draws its strength not from a clear, direct confrontation with human suffering, but rather from its indirect approach. The time of death itself is never "represented". We're not actually dying together, only relatively. We constantly compromise and manoeuvre between the tangible constellation of the community that forms on stage and the mental representation of the disaster, between direct and indirect involvement and between simultaneously depicted spaces. In that sense, the power of Dying Together is found in its DNA: in the togetherness that arises in the betwixt-and-between, in the blurring of the boundaries between spaces, times and people.
E-etcetera, Elke Huybrechts