The Marquis de Sade is as famous as he is infamous. His books - such as Die Philosophie im Boudoir from 1795 - were at times even on the index. Now the time is ripe for this work on the theater stage, for no one less than cult director Herbert Fritsch (Murmel Murmel) takes care of him! A small group of noble Libertins, men and women from the best social circles, introduce a young woman to sexuality. The free will goes to them above all else. The Marquis de Sade combines sensual pleasures with social criticism in a piquant way. Herbert Fritsch's play with theatre and fantasy is guaranteed to be full of relish.
Why this story?
Herbert Fritsch: As a young person, the literature by Marquis de Sade deeply disturbed me. Not negatively. It was an irritation that mobilized my thoughts and feelings. Today I know: you have to get challanged by extreme thoughts in order to train your own thinking. You have to take thoughts out of the poison chest and face them. It's not about provocation at all. It's about the unexpected in oneself. You must never forget playing in theatre. And de Sade plays with the possibilities of human existence.
Is de Sade up to date?
Herbert Fritsch: Very. He shows how thin the ceiling of civilization is. He didn't experience what he wrote, he fantasized about it. But today we believe in reality so much that we think that we can find out the truth – for example in politics – by means of documentary. But every camera hast o stop at some point in front of a locked door. De Sade, however, has overcome documentary. He's opened rooms no one else can get into. That's why they locked him up, because they were afraid of the power of imagination.
You've wanted to stage this story for a long time, but you haven't dared to. Why now?
Herbert Fritsch: I want to do special things in Bochum. In a play directed by Frank Castorf, when Leander Haußmann was artistic director, I once played here myself, even the Marquis de Sade. Now I have become a director and stage designer and I'm coming back, and that feels very good.
more
less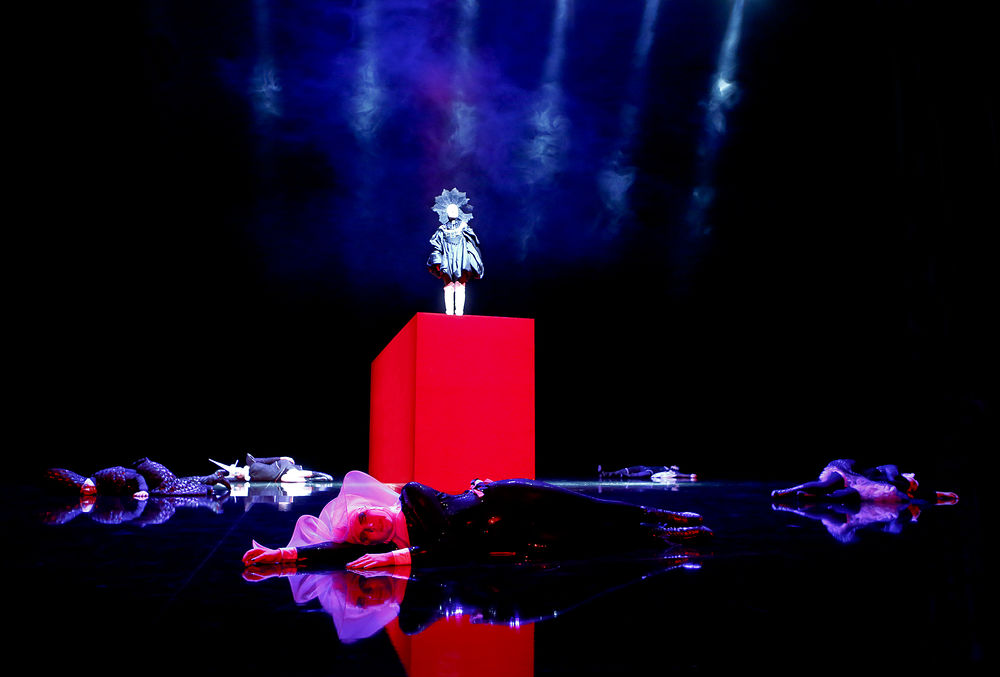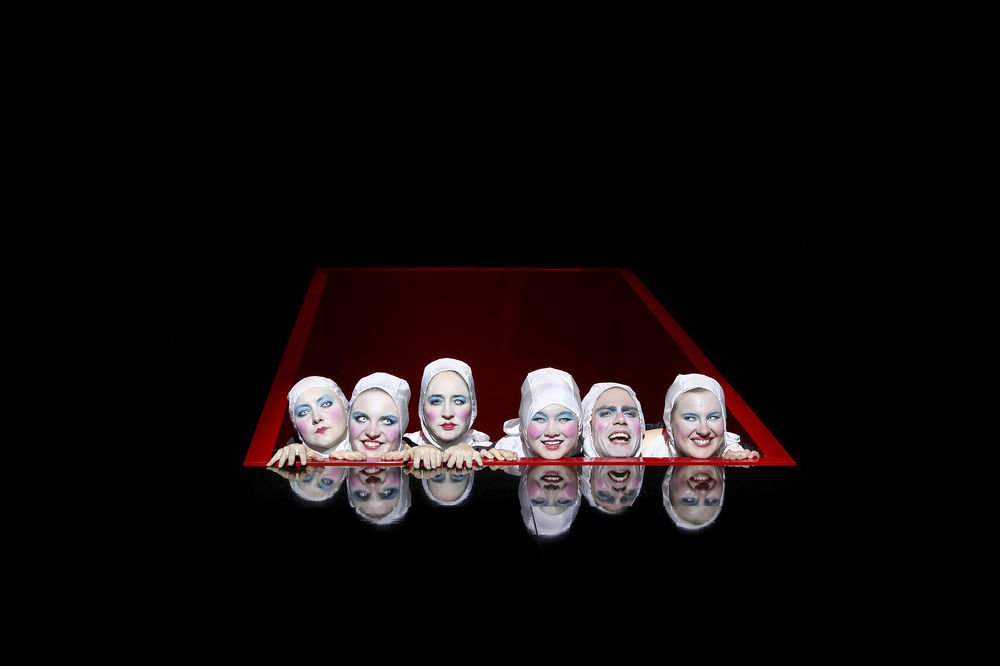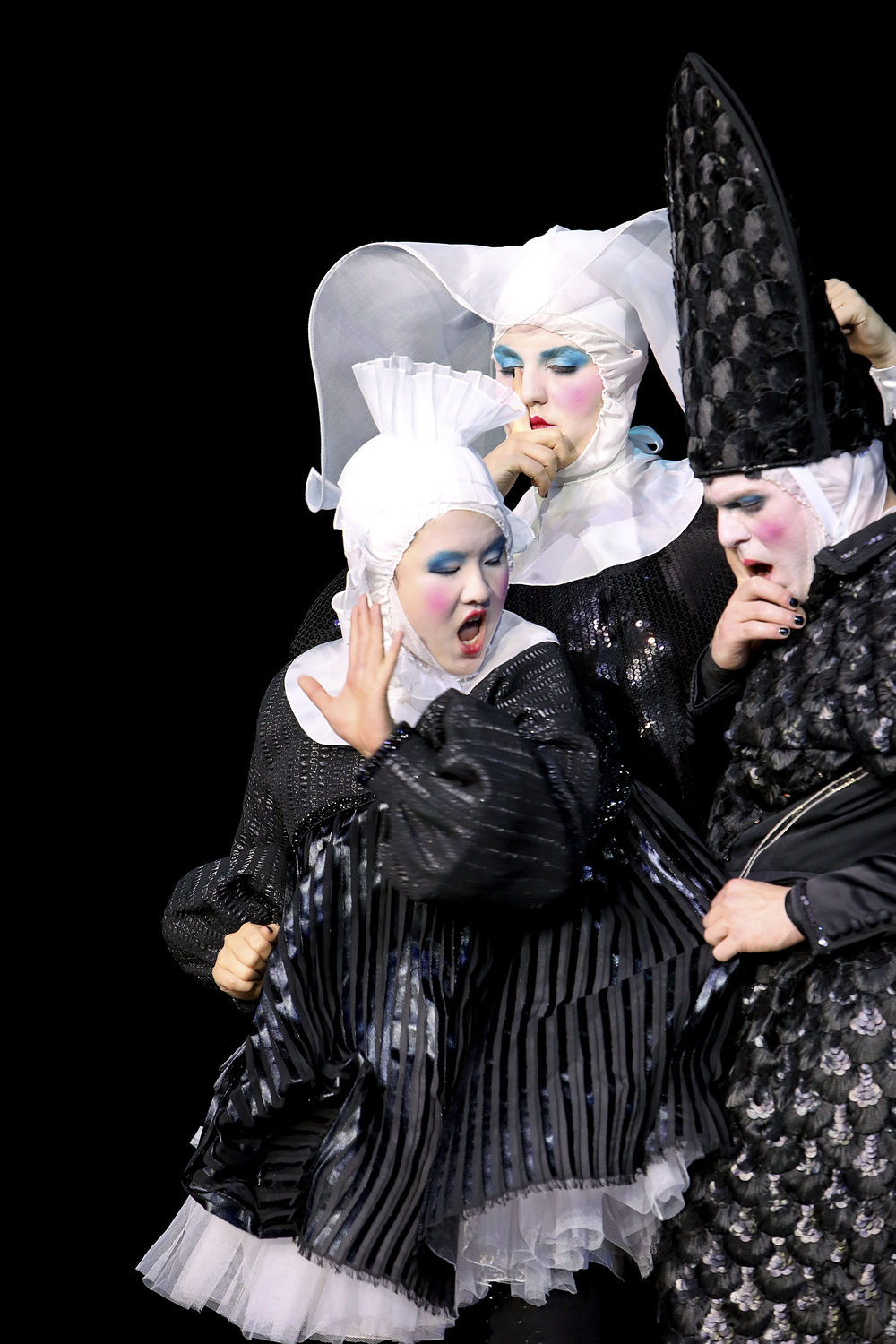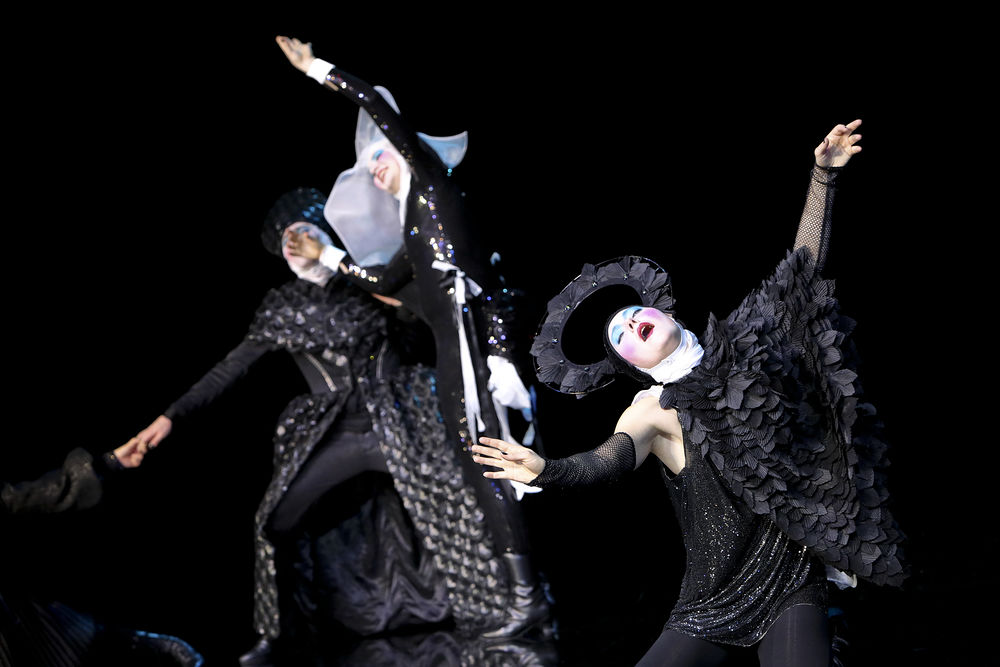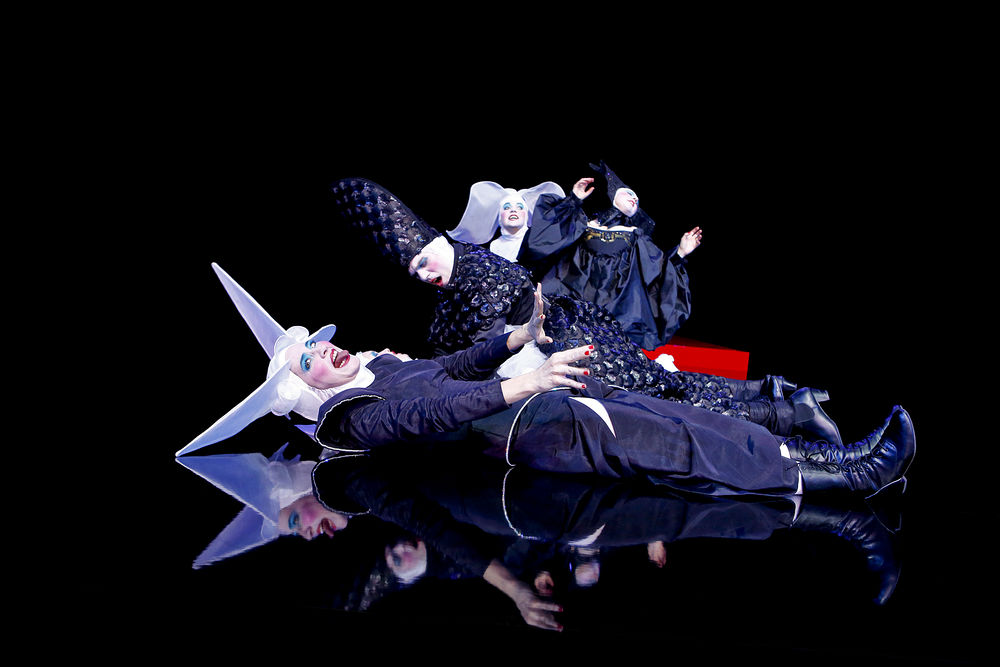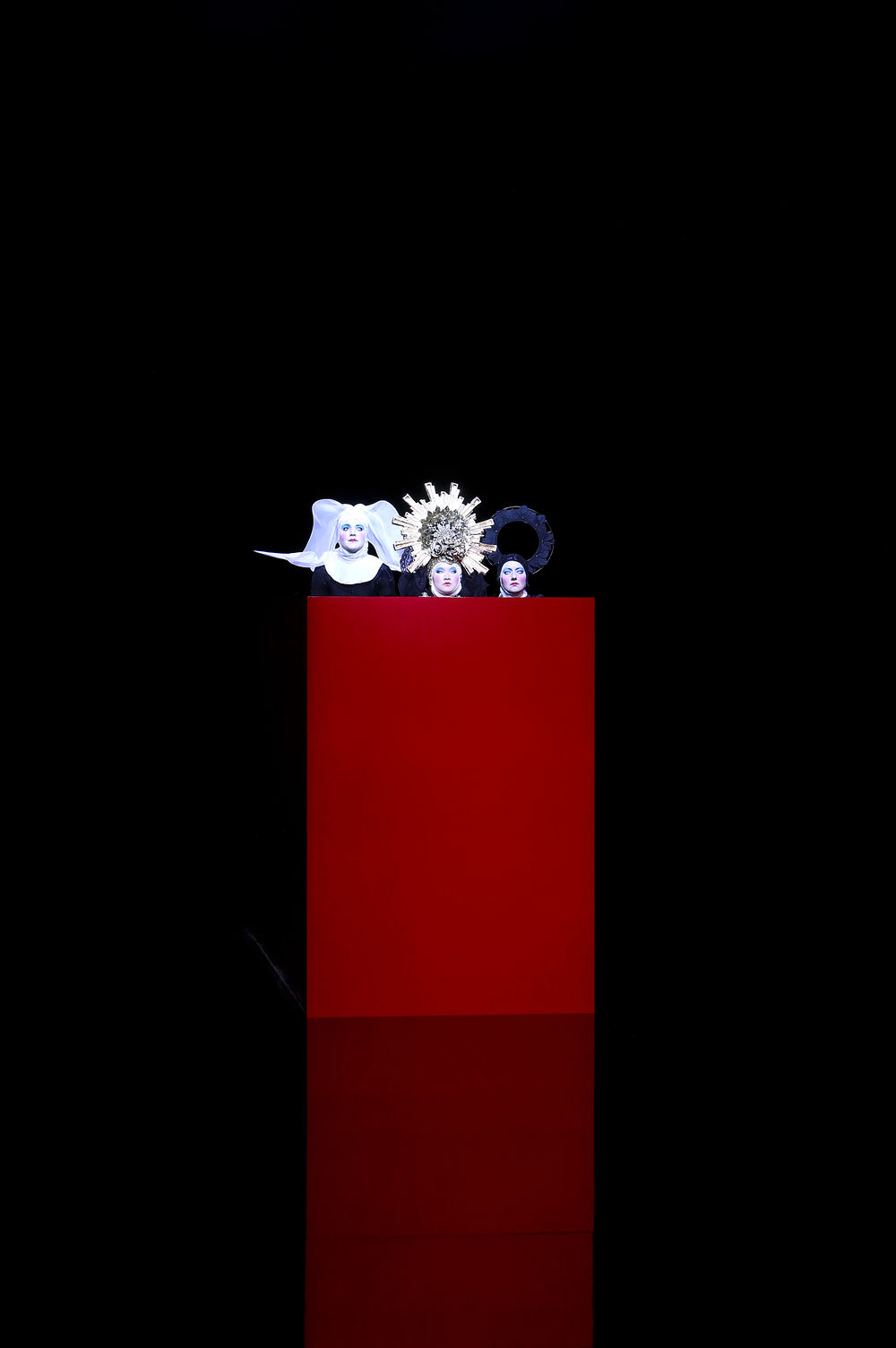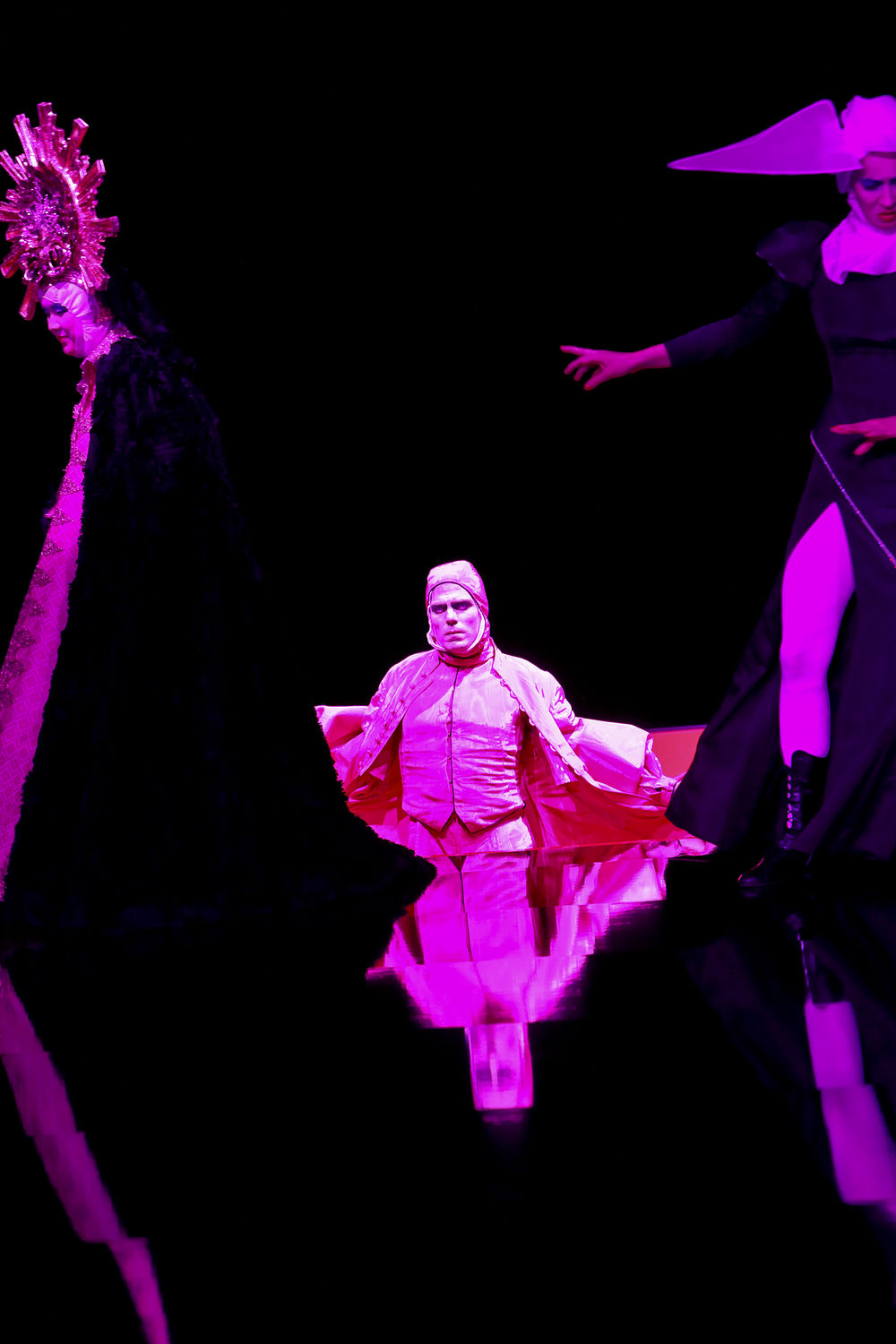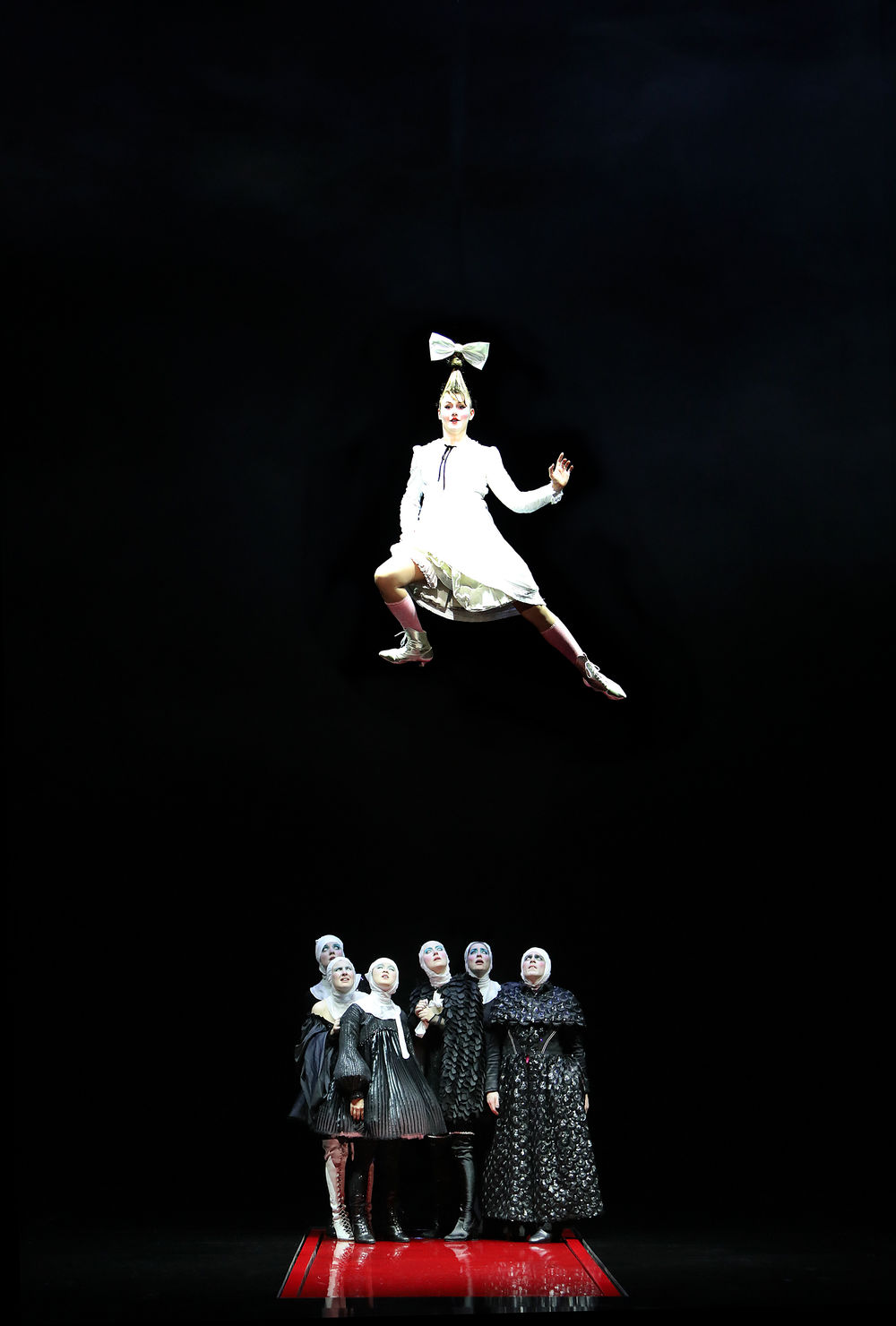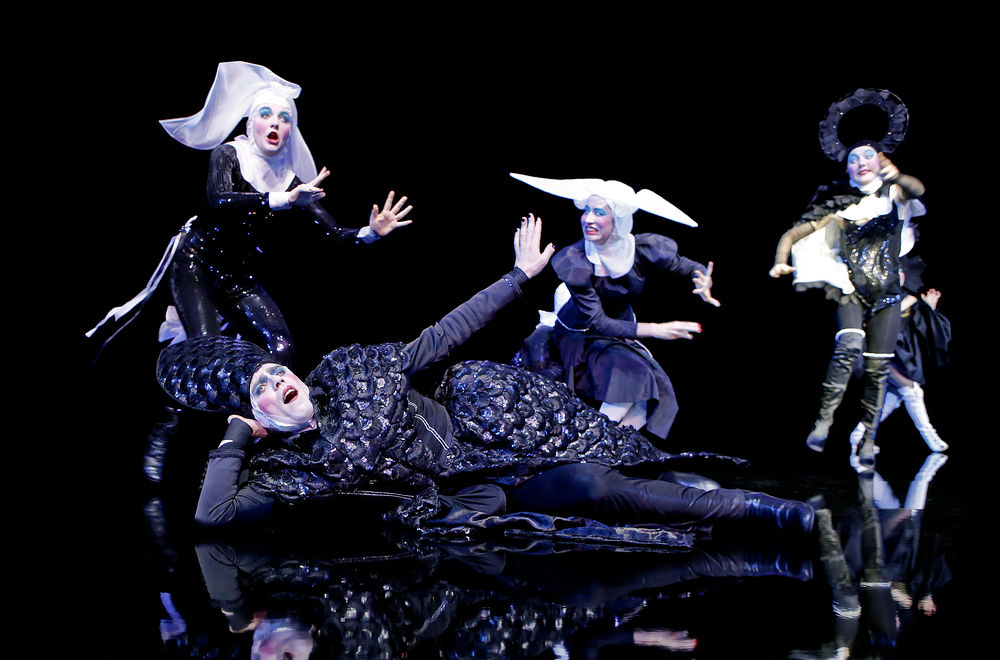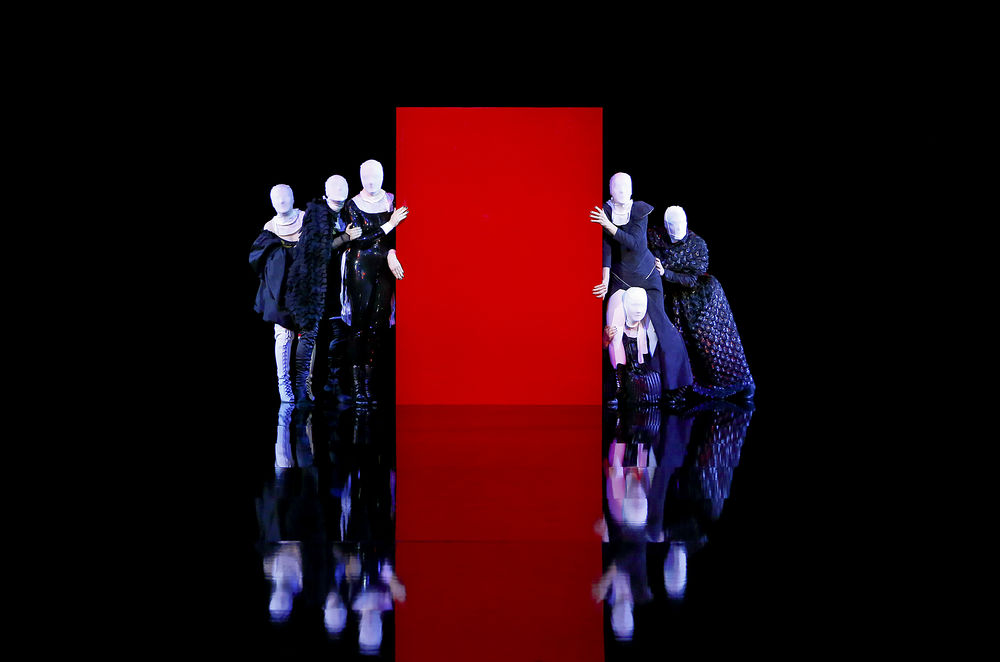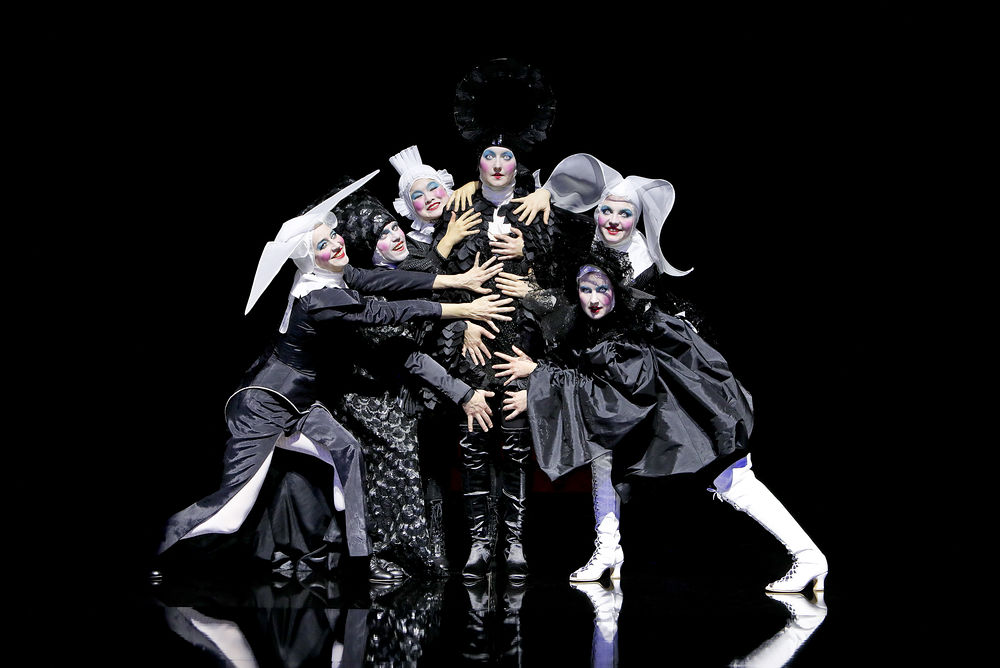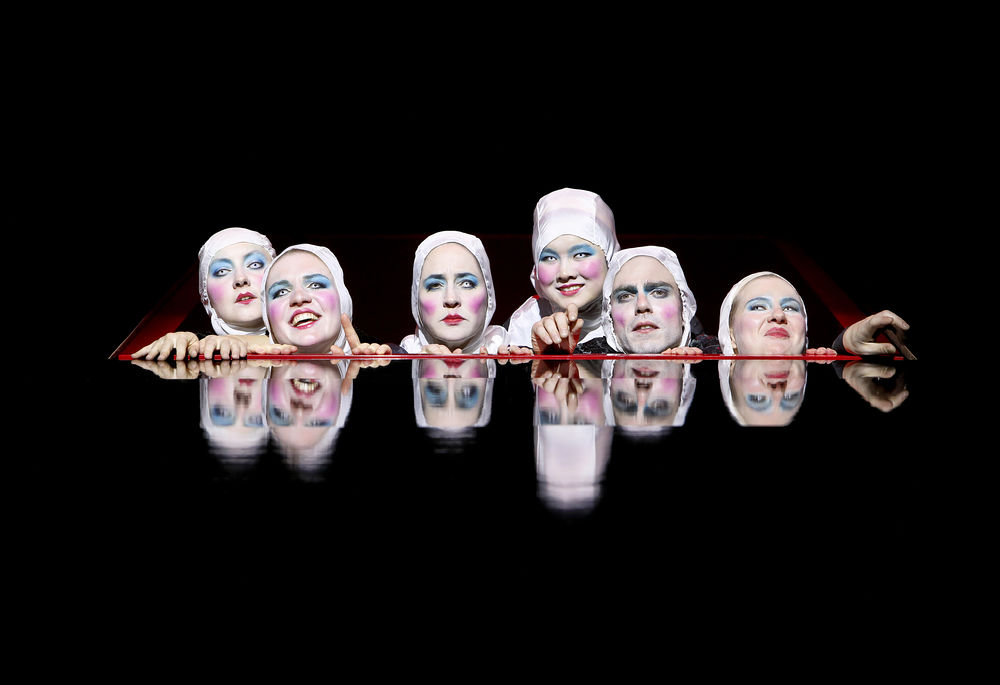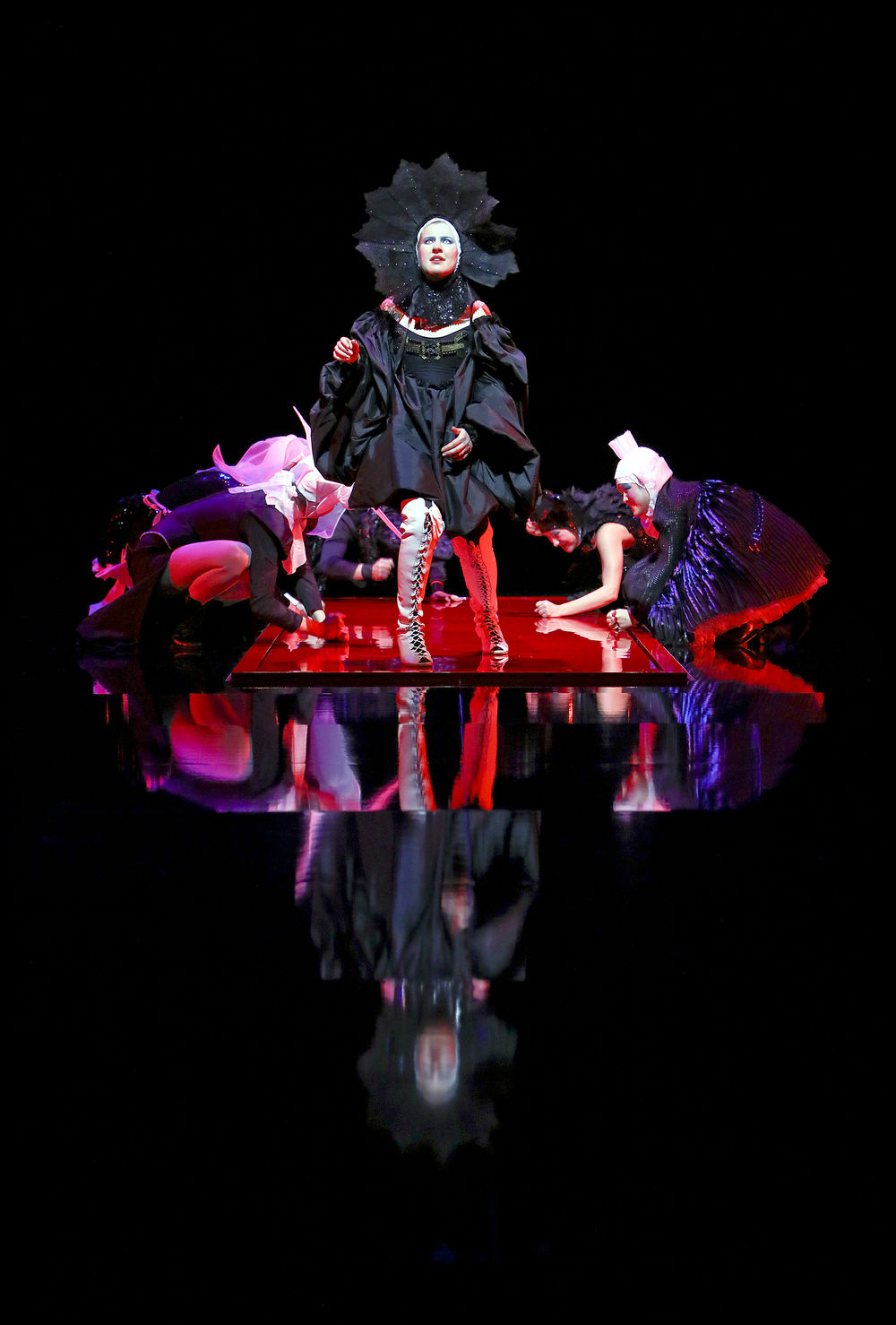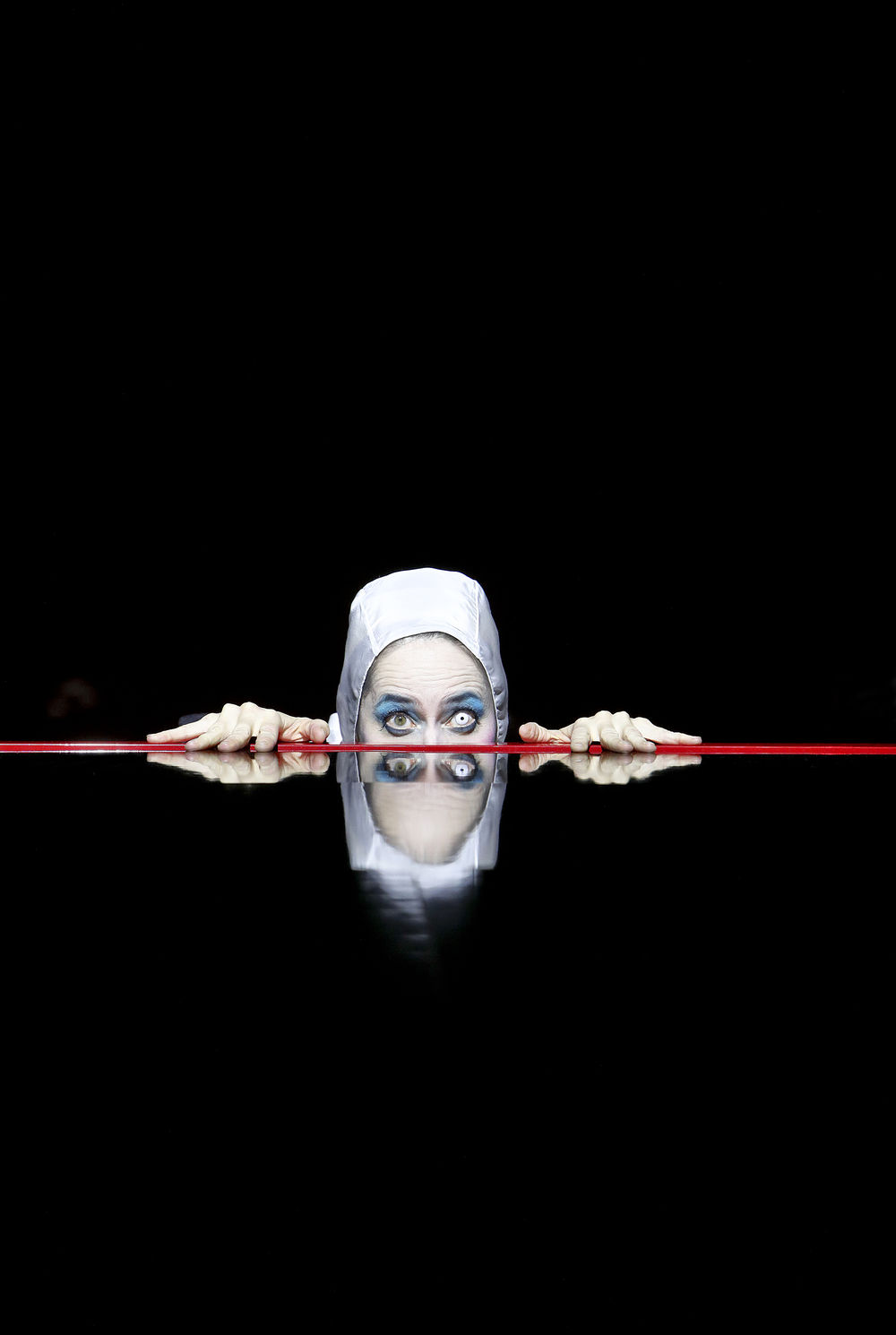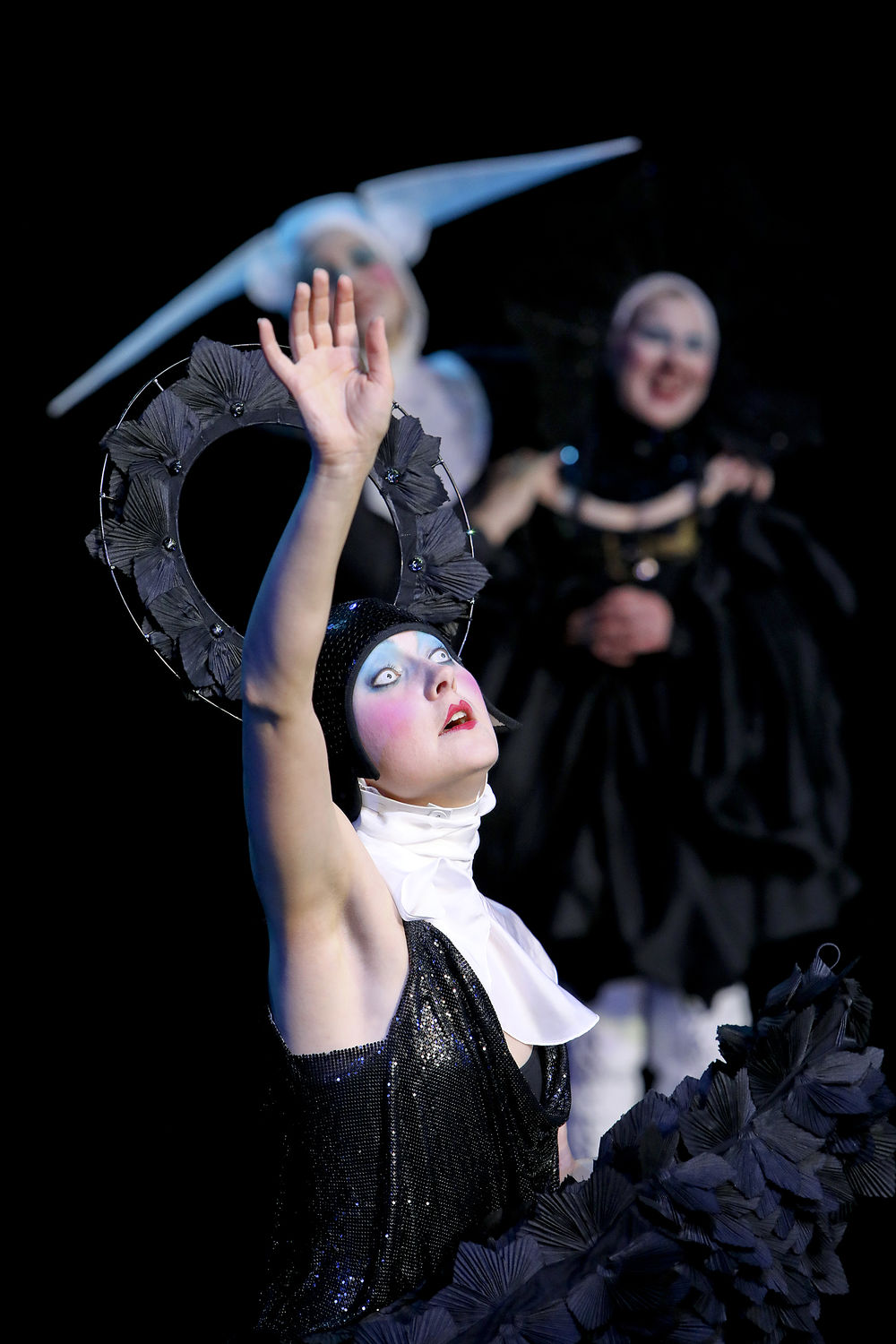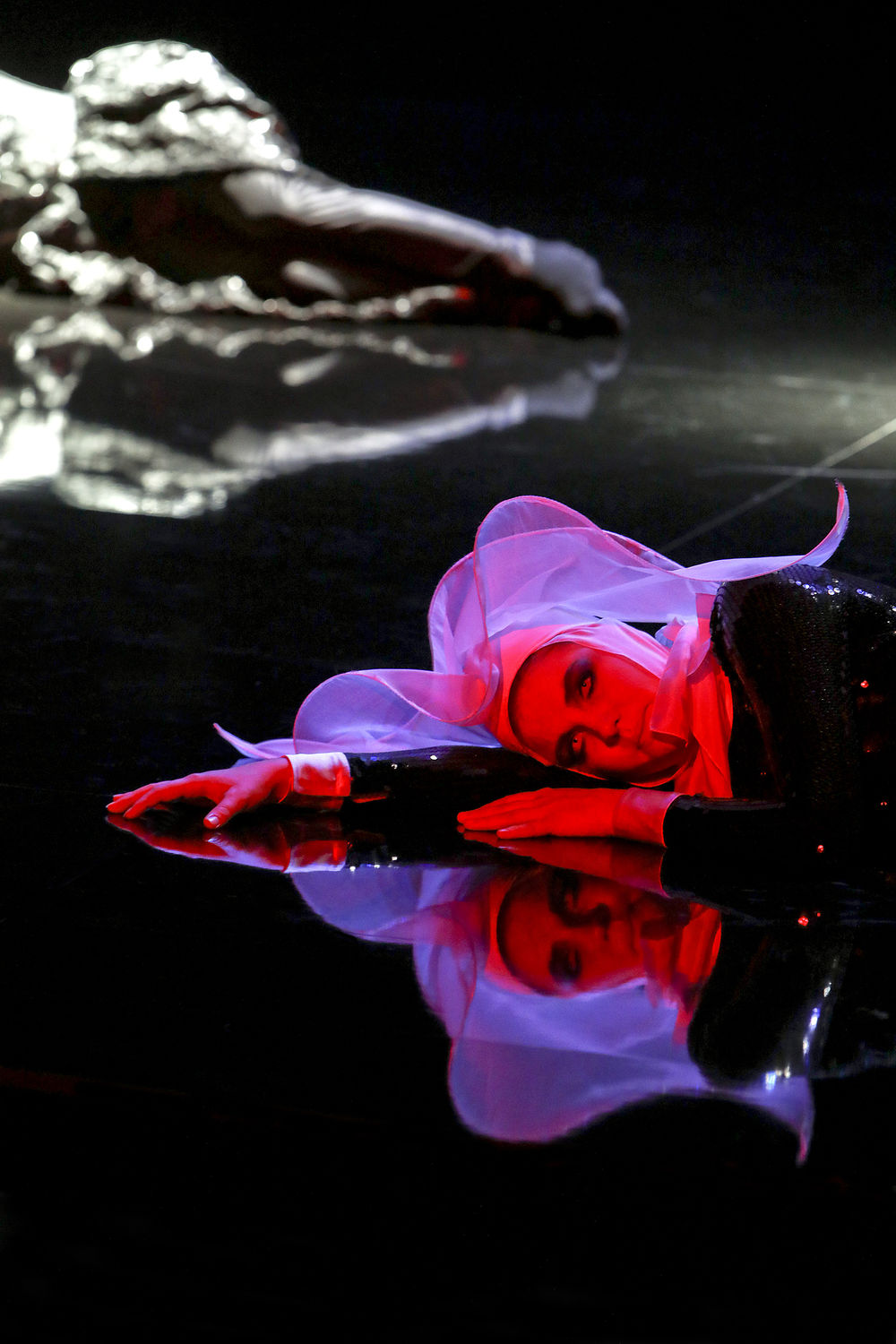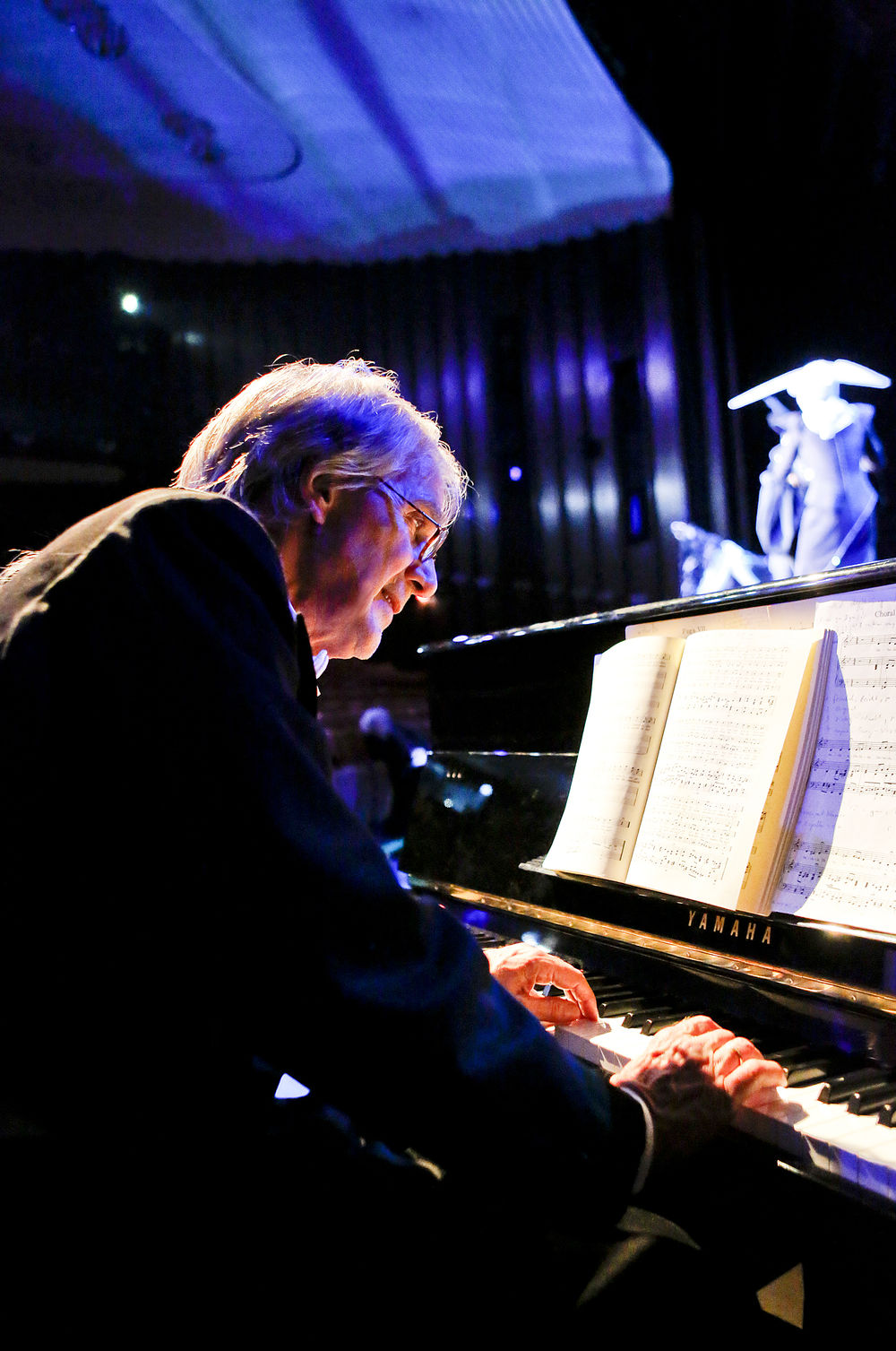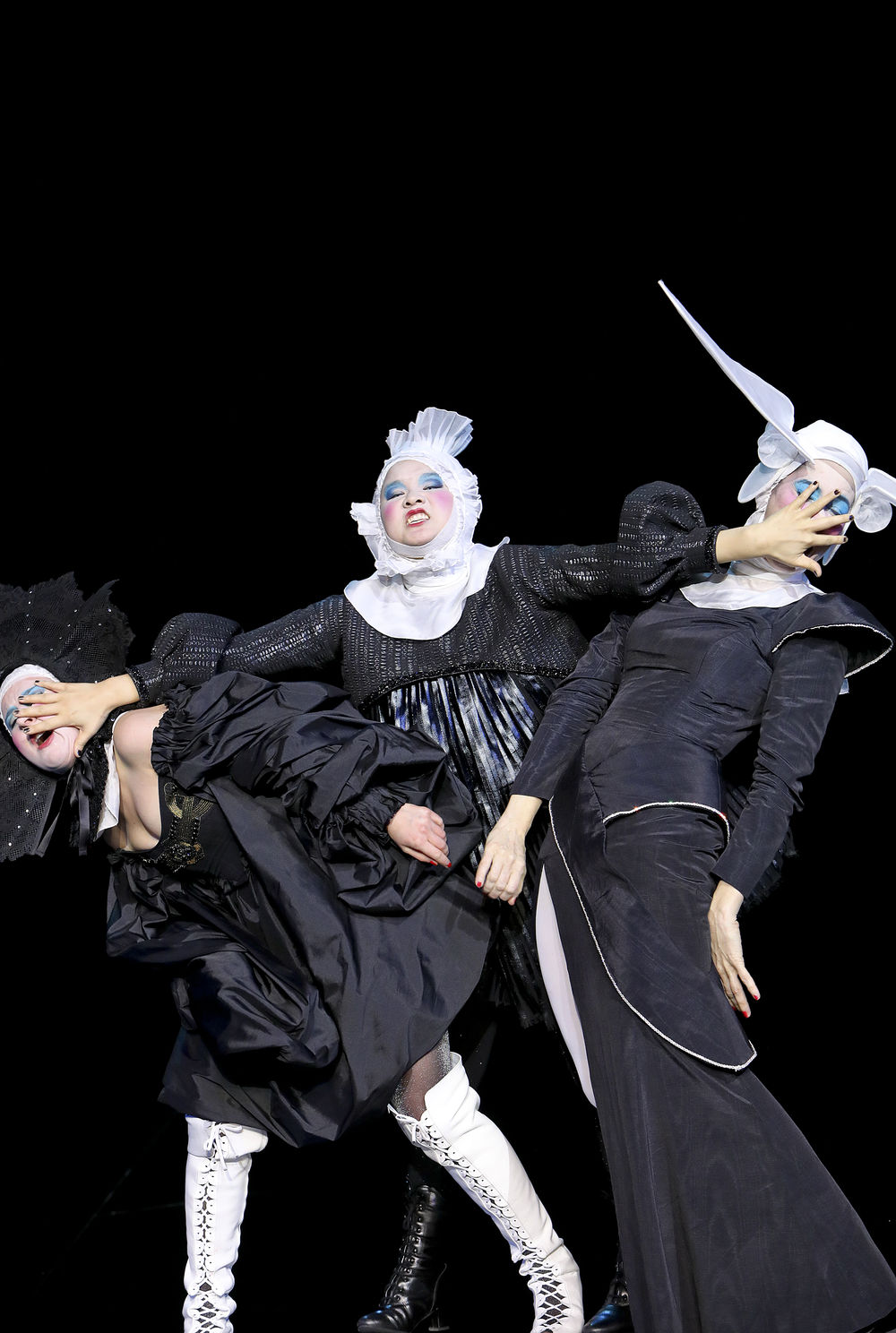 Press voices:
Der wahrlich ungeheure Aufklärer Sade ist nicht auf eine These zu bringen. Aber er fordert das Denken heraus wie wenige andere. Fritsch findet eine wunderbare Lösung, das unspielbare Werk zum Bühnenereignis zu machen.
Westfälischer Anzeiger, Ralf Stiftel
Herbert Fritsch überlässt die Obszönität ganz de Sades Sprache, bleibt aber optisch keusch wie ein Klosterschüler. Keine blanken Busen, keine Hintern, keine Penetrationen und Torturen. Dafür – wie gewohnt bei Fritsch – hemmungslose Spiellust, wuschige Körper und intelligenter Witz.
WDR 5, Nicole Strecker
Fritsch gelingt eine fulminante de Sade-Revue, eine schwarze Messe der Gedankenfreiheit. Große Begeisterung.
Der Tagesspiegel, Regine Müller
More press voices
Allein Anna Drexler dabei zuzuschauen, wie sie in einem irren Solo die Freiheit der Kunst propagiert, macht eine Diesbesfreude. Übertrieben bis zur totalen Groteske spielen auch Svetlana Belesova, Jele Brückner, Anne Rietmeijer, Ulvi Teke und Jing Xiang, die in einem Ballonkleid beinahe über die Bühne schwebt.
WAZ, Sven Westernströer
Die Inszenierung besticht durch ihre hohe Ästhetik, das Ensemble spielt brillant, mit Witz und am Anschlag.
Süddeutsche Zeitung, Cornelia Fiedler
Körper beben, Münder stöhnen, Zungen kreisen, während der Text von einem zur anderen springt. Erotik aus der Hölle, live begleitet von Otto Beatus am Klavier, mit verführerisch schönen Variationen von Bachs Johannes-Passion.
Süddeutsche Zeitung, Cornelia Fiedler
Diese Gestalten bewegen sich manchmal wie in einem Stummfilm, dann wieder wie Kasperlefiguren oder artistische Clowns in der Manege. Der Kontrast zwischen deklamierten Abscheulichkeiten und absurder Putzigkeit reichert Sades Erzählung an und ist hoch unterhaltsam. Lang anhaltender Applaus für ein groß aufspielendes Ensemble und eine vieldeutige Textdekonstruktion.
Westfälischer Anzeiger, Ralf Stiftel
Das Ensemble ist präsent, schneidet Grimassen, zeigt Körpereinsatz und insgesamt eine großartige Leistung, nimmt den Text Wort für Wort auseinander und bringt ihn sorgsam auf die Bühne – denn Natur ist Bewegung.
Deutschlandfunk, Christiane Enkeler
All die provokanten Details der Lehrstunde in Sex und Gewalt für die Klosterschülerin Eugénie, die Marquis de Sade in Die Philosophie im Boudoir ausgemalt hat, lässt Herbert Fritsch in Bochum nicht nachspielen, sondern sprechen. Das ist irritierend, weil das Publikum so gezwungen ist, sich Lust und Verbrechen vorzustellen, damit aber auch unverschämt wirkungsvoll.
Süddeutsche Zeitung, Cornelia Fiedler
Man wettert in de Sades nihilistischem Boudoir gegen das Mitleid und erklärt den entgrenzten Egoismus zur wahren menschlichen Natur. Man preist die Freiheit als höchsten Wert – und das meint eben immer auch: die Freiheit zum Bösen. Regisseur Herbert Fritsch legt viel Wert auf diese Moraldiskurse, die mit ihrer abstrusen vernunftfeindlichen Logik oft wie Parodien auf das Pathos der Aufklärung klingen.
WDR 5, Nicole Strecker
Das monströse Textgebilde zeigt Kultregisseur Herbert Fritsch als bösen, nihilistischen Spaß, als sogartig durchchoreografierten Taumel und vor allem als eisgekühltes Gedankenexperiment, das die grenzenlose Freiheit der Fantasie feiert.
Kölner Stadt-Anzeiger, Regine Müller
Das Ganze ist hoch virtuos gemacht, ein Theater maximaler Künstlichkeit, in dem die maskenhaft geschminkten Darsteller mit höchstem Körpereinsatz agieren.
Der Tagesspiegel, Regine Müller
Ein Bühnen- und Kostümbild für die Götter, stimmige Live-Klaviermusik und Darsteller, die nicht bloß sprachlich, sondern vor allem körperlich alles in die Waagschale werfen – mutige, erfrischende und in ihrer Kohärenz schwer zu übertreffende Abende wie dieser sind das Lebenselixier des Stadttheaters.
Blog literaturundfeuilleton, Helge Kreisköther
Fritsch gelingt es, dieses nur schwer spielbare Werk auf die Bühne zu bringen. Seines sechs wunderbaren Darsteller spielen nicht immer eine bestimmte Person. Der Text wird von einer Person an die nächste weitergereicht. Chorisches Sprechen wechselt mit Einzelauftritten ab.
theater pur, Antje van Bürck
Mal sind sie Verführer mal Verführte, mal Verbrecher mal Opfer, mal Mann, mal Frau. Die Übergänge sind fließend und doch immer genau zu erkennen. In seiner Fantasie kann jede*r alles sein. Dabei sind noch die extremsten Grausamkeiten Teil eines befreienden Gedankenspiels, das alle Lügen des Anstands wie der Zivilisation entlarvt.
nachtkritik.de, Sascha Westphal
Wenn Jele Brückner, Anna Drexler und Svetlana Belesova Passagen aus de Sades Die neue Justine, die Fritsch und sein Dramaturg Vasco Boenisch in ihre Bearbeitung der Philosophie eingefügt haben, im Märchenton vortragen, scheinen sie sich regelrecht an den geschilderten Ausschweifungen zu berauschen. Man begegnet Menschen, die so tief in ihre dunkelsten Fantasien eintauchen, dass sie plötzlich sich selbst erkennen und darüber ganz aus der Fassung geraten.
nachtkritik.de, Sascha Westphal
Unsere Gesellschaft, das ist die These der Bochumer Inszenierung, profitiert von Mechanismen der Gewalt. Sie sind nur gut verborgen oder weit ausgelagert, in Stellvertreterkriege, in tödliche Arbeitsbedingungen, ins Sterben an Krankheiten, die vielleicht andernorts doch noch heilbar wären – alles geschieht fernab der Wohlstandsmetropolen. Mit de Sade holt Fritsch die Gewalt zurück, so nah wie nur möglich, in die Kernfamilie.
Süddeutsche Zeitung, Cornelia Fiedler
Vielleicht braucht unser Moralempfinden gelegentlich ja die Verletzung, um wieder lebendig zu werden?! So verwandelt Herbert Fritsch die philosophischen Belehrungen des Marquis in eine finstere Komödie.
WDR 5, Nicole Strecker
Fritsch, der auch die Bühne gestaltet hat, ist mit Kostüm (Victoria Behr), Licht (Bernd Felder) und Musik (Otto Beatus) eine kongeniale Komplizenschaft eingegangen. Zusammen zeigen sie düstere Bilder, in denen Bühnenelemente mitsamt Darstellern im Nichts zu schweben scheinen, Schatten wabern, helle Körper- und Kostümteile sich im schwarzglänzenden Boden spiegeln, grüne und rote 3D-Illusionen den Blick minutenlang verrutschen lassen, Bachs Johannes-Passion zerdehnt gesungen wird und gesprochene Stimmen verfremdet klingen, die Akustik atavistische Räume vortäuscht.
Deutschlandfunk, Christiane Enkeler
Als Fazit lässt sich sagen, dass der Abend trotz der Kritikpunkte ungemein beeindruckt. Ein exzellentes Ensemble, fantastische Kostüme, ein klares Bühnenbild, ja sogar eine in manchen Szenen überzeugende Choreographie. Warum aber dieses Thema? Gerade in Zeiten der "MeToo-Debatte" diese extensive Vorstellung von frauenverachtenden Sexualpraktiken? Diese Verherrlichung von Grausamkeit und fehlender Moral? Der Dramaturg Vasco Boenisch schreibt im Programmheft: "In jedem von uns steckt ein de Sade. Wer das nicht glaubt, vergisst, zu welchen Grausamkeiten Menschen fähig sind." Als Beispiel führt er die Ausbeutung armer Länder Asiens und Afrikas durch den Konsumterror des reichen Westens an. Und Gräueltaten unerhörten Ausmaßes sind tagtäglich in den Medien präsent, nicht nur in der Berichterstattung über diverse Kriege. Insofern ist jegliche Empörung über diesen Theaterabend gegenstandslos.
theater pur, Antje van Bürck
Fritsch gelingt fordernd-fetziges Bühnen-Entertainment nach einem gewagten "klassischen" Stoff – gerne mehr davon!
Blog literaturundfeuilleton, Helge Kreisköther
Herbert Fritsch entwickelt ein verstörend opulentes Spiel von beinahe magischer Kraft, ein zwar artifizielles, doch gleichwohl wirkungsvolles Bildertheater, in dem auch die drastischen Sätze des Marquis oder seine gewagten Handlungsanweisungen einen Zug ins Groteske, ins schräg Irrwitzige erhalten. Fazit: Wenn man den Text des Marquis unbedingt auf die Bühne bringen will, dann sollte man es tunlichst in der Weise versuchen, wie es Herbert Fritsch gelungen ist. Ich jedenfalls war fasziniert. – Der Neubeginn an der Königsallee konnte somit einen weiteren Glanzpunkt verzeichnen.
Werner Streletz, freier Journalist Bochum
Fritsch entdeckt in de Sade den Humoristen und die Musik in den Porno-Litaneien. Ein fulminantes Crescendo, das sich in einem schwerelosen Applaus-Tanz auflöst.
Rheinische Post, Regine Müller