François is following the presidential elections in France. The old parties have allied with the top candidate of the Muslim party to prevent the right National Front. The charismatic Muslim brother, Mohammed Ben Abbes, is attracting more and more attention, and civil war-like riots are taking place in Paris. François escapes the city. When he returns, his country is a different one: a Muslim one. Ben Abbes is president, changes the secular constitution, introduces theocracy, sharia, patriarchy and polygamy. Will François convert? – We also show Michel Houellebecq's provocative vision of the future in combination with an adaptation of his earlier novel Platform.

We show Platform and Submission both as a double performance on one evening and as single performances on separate evenings. We show the double performances including a one-hour break with an extended gastronomic offer in the foyer of the Schauspielhaus.
more
less
Duration: 1:45h, no break
Language: German with English surtitles
Tags: #theatre
Unterwerfung
Text: after Michel Houellebecq
Director: Johan Simons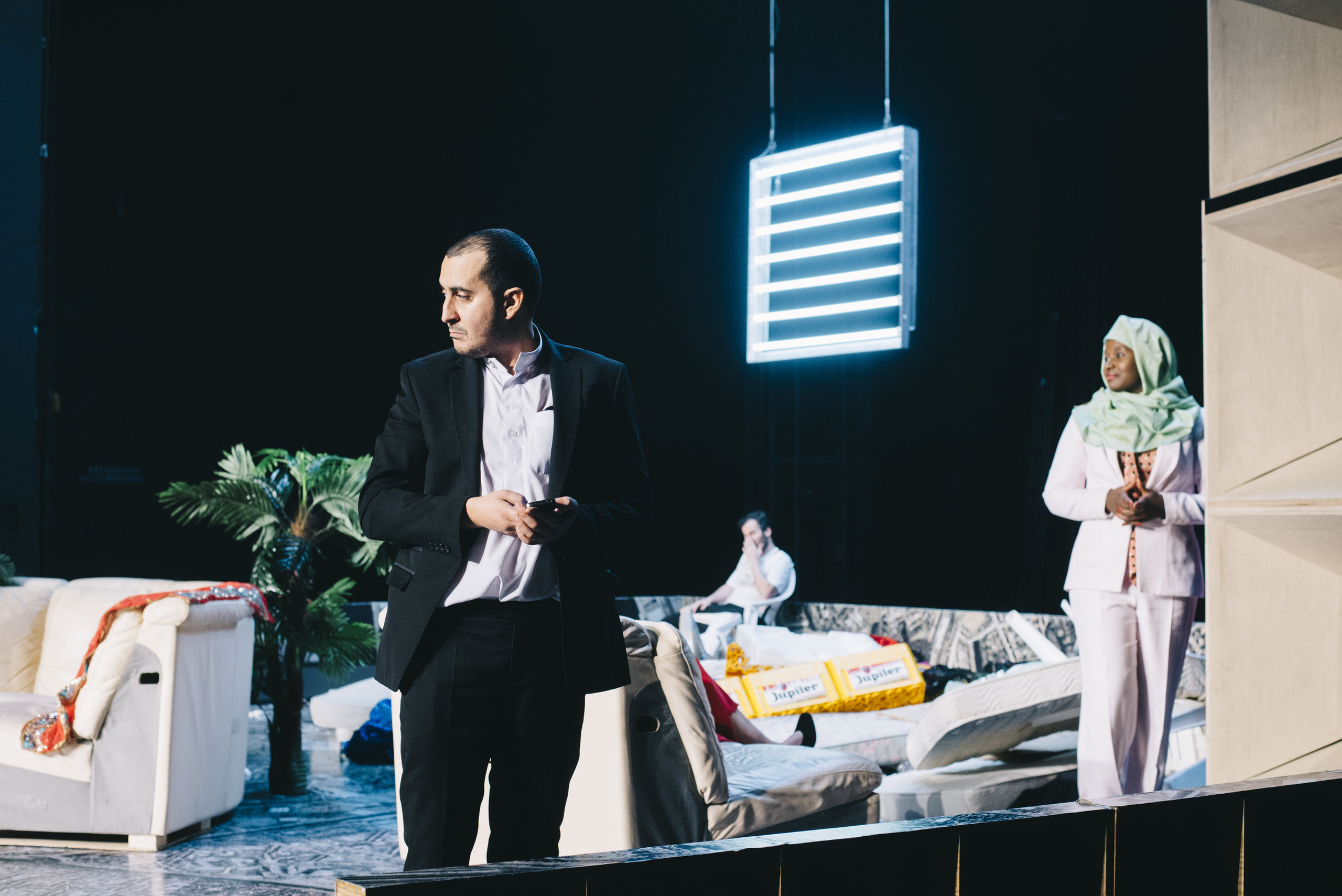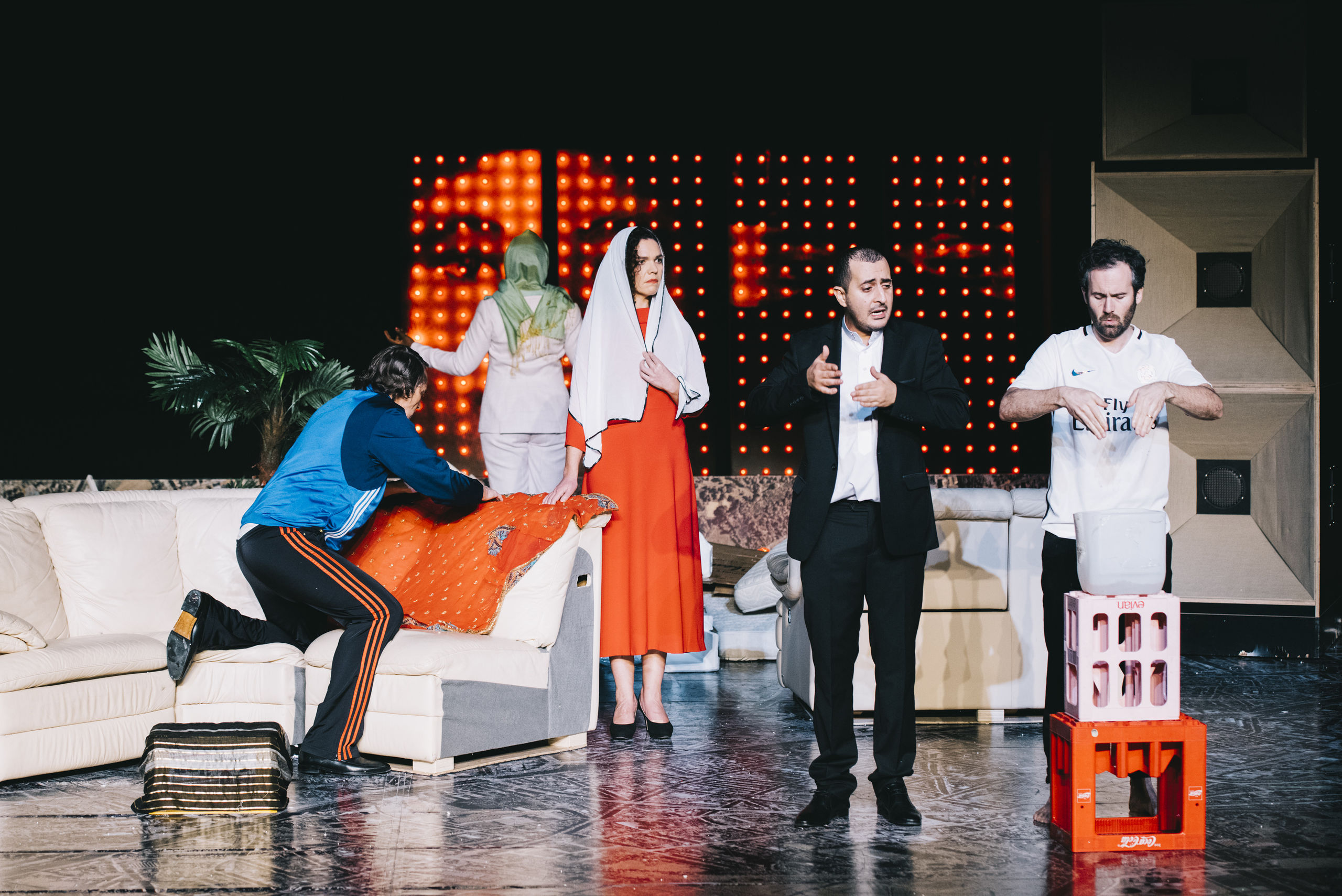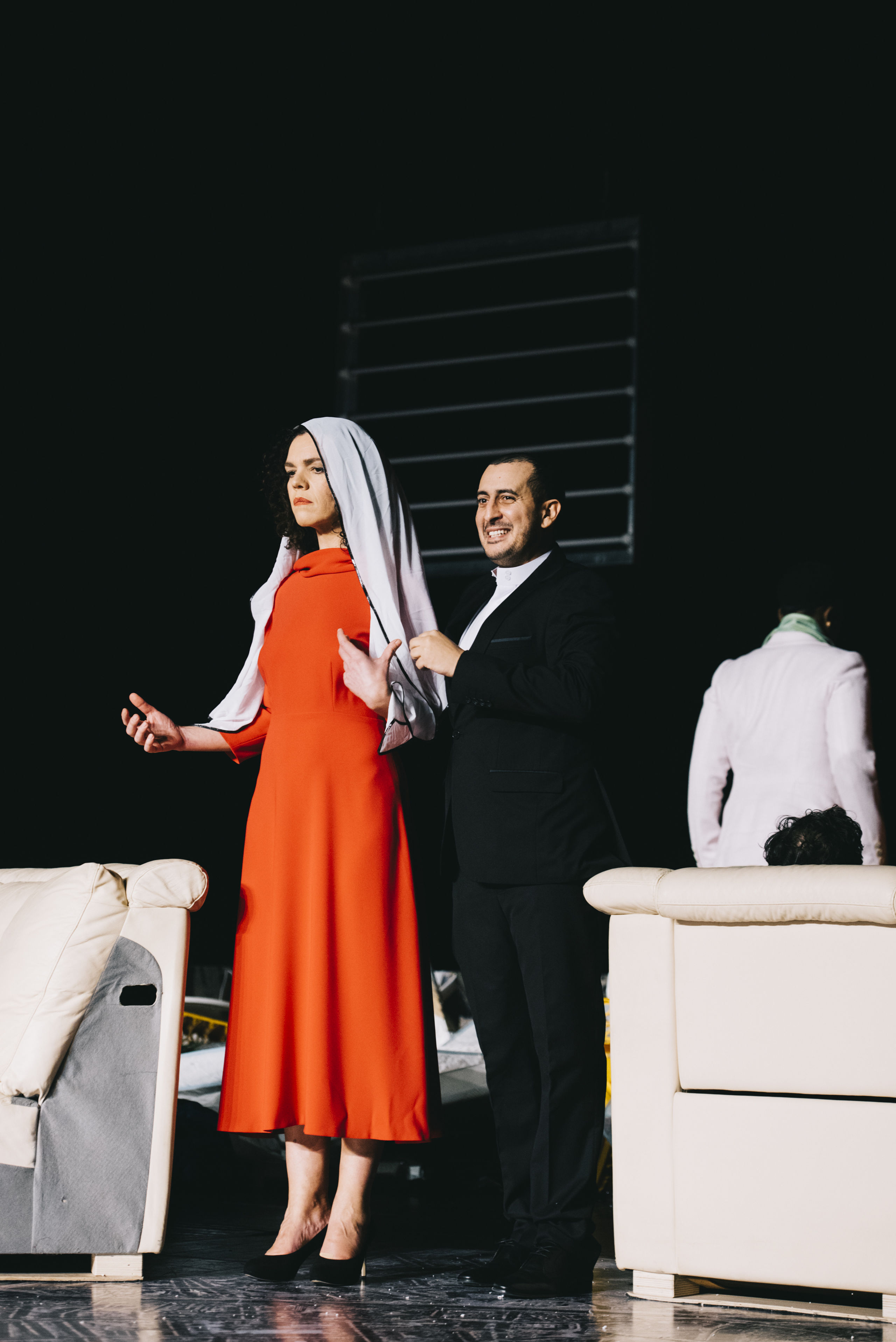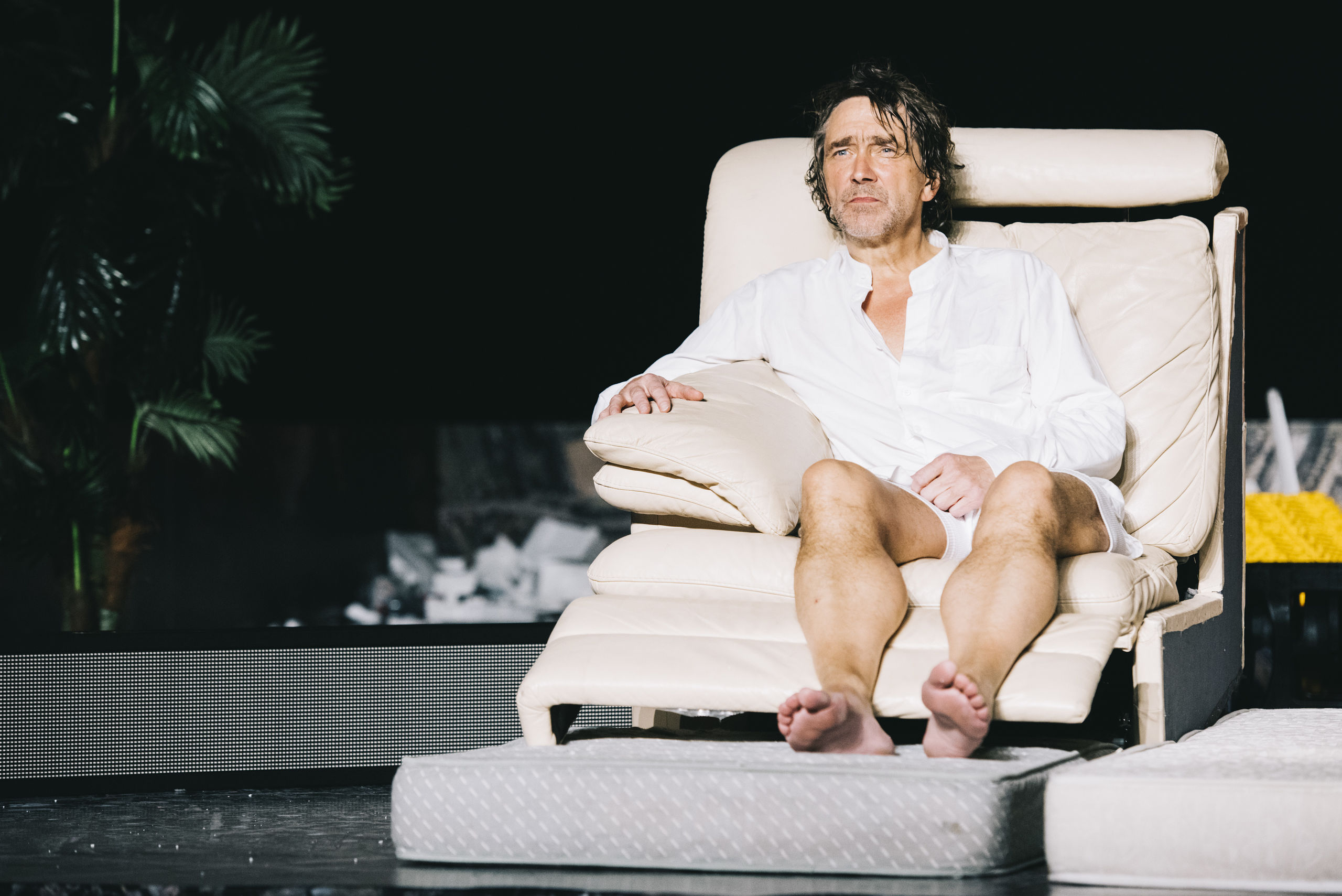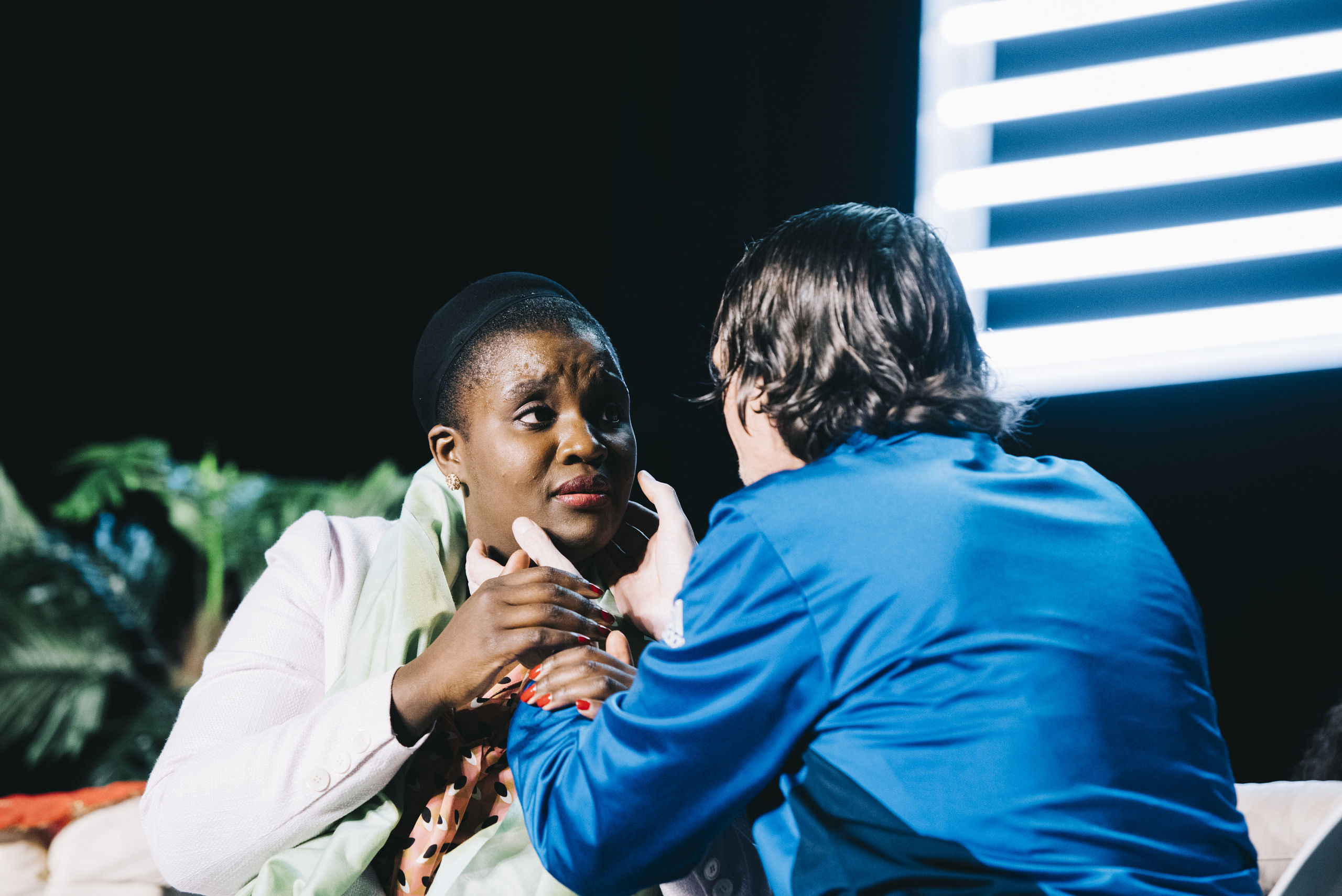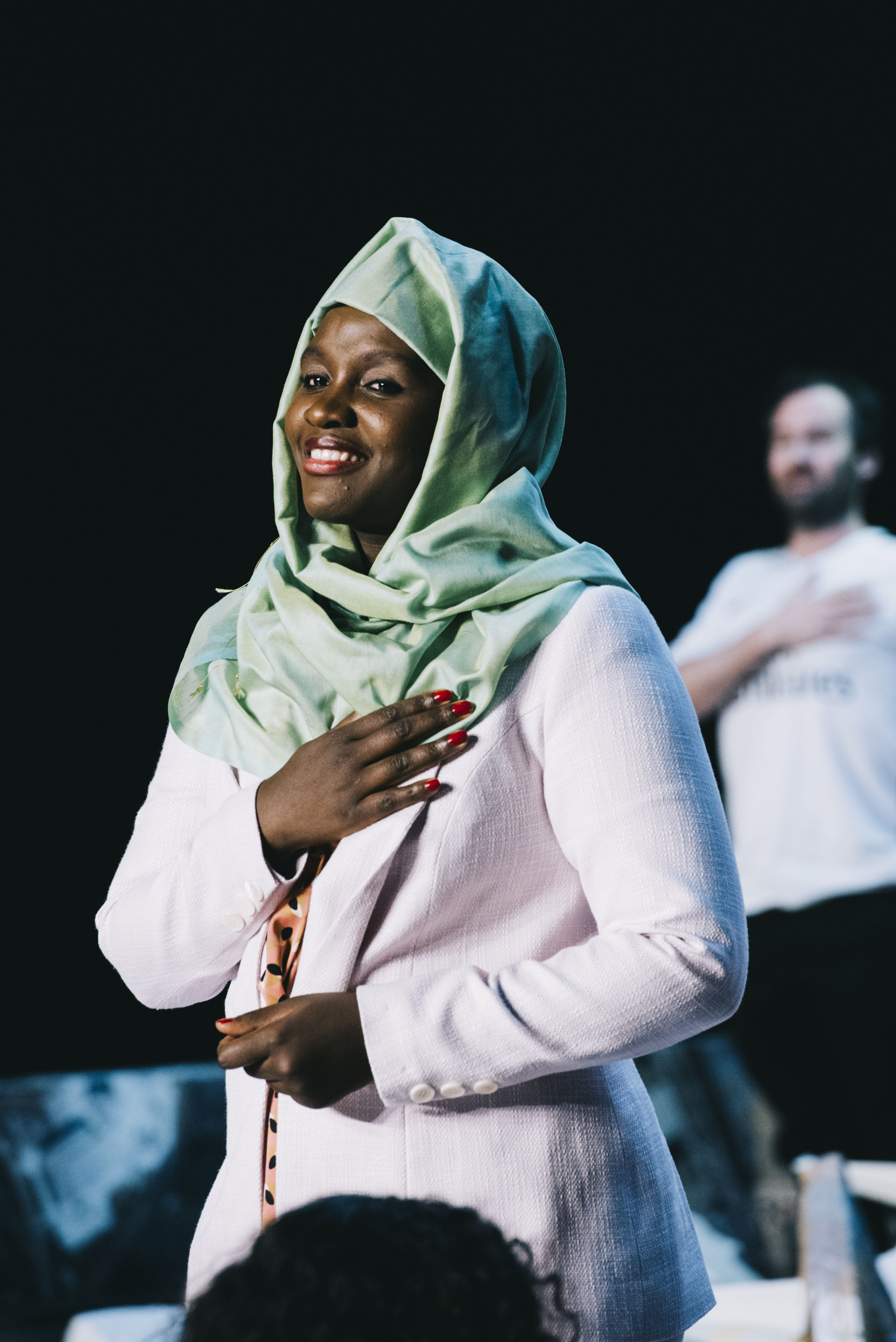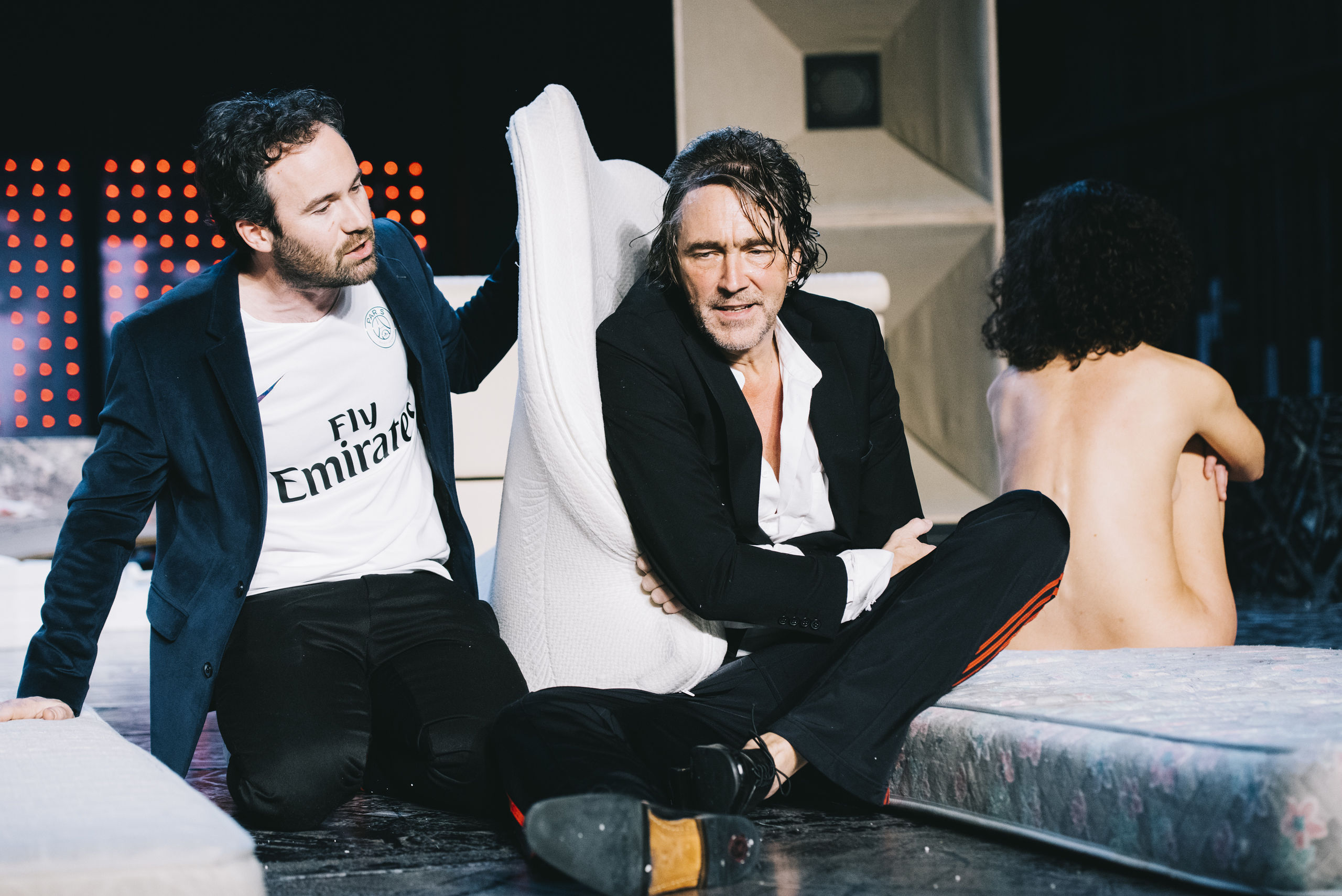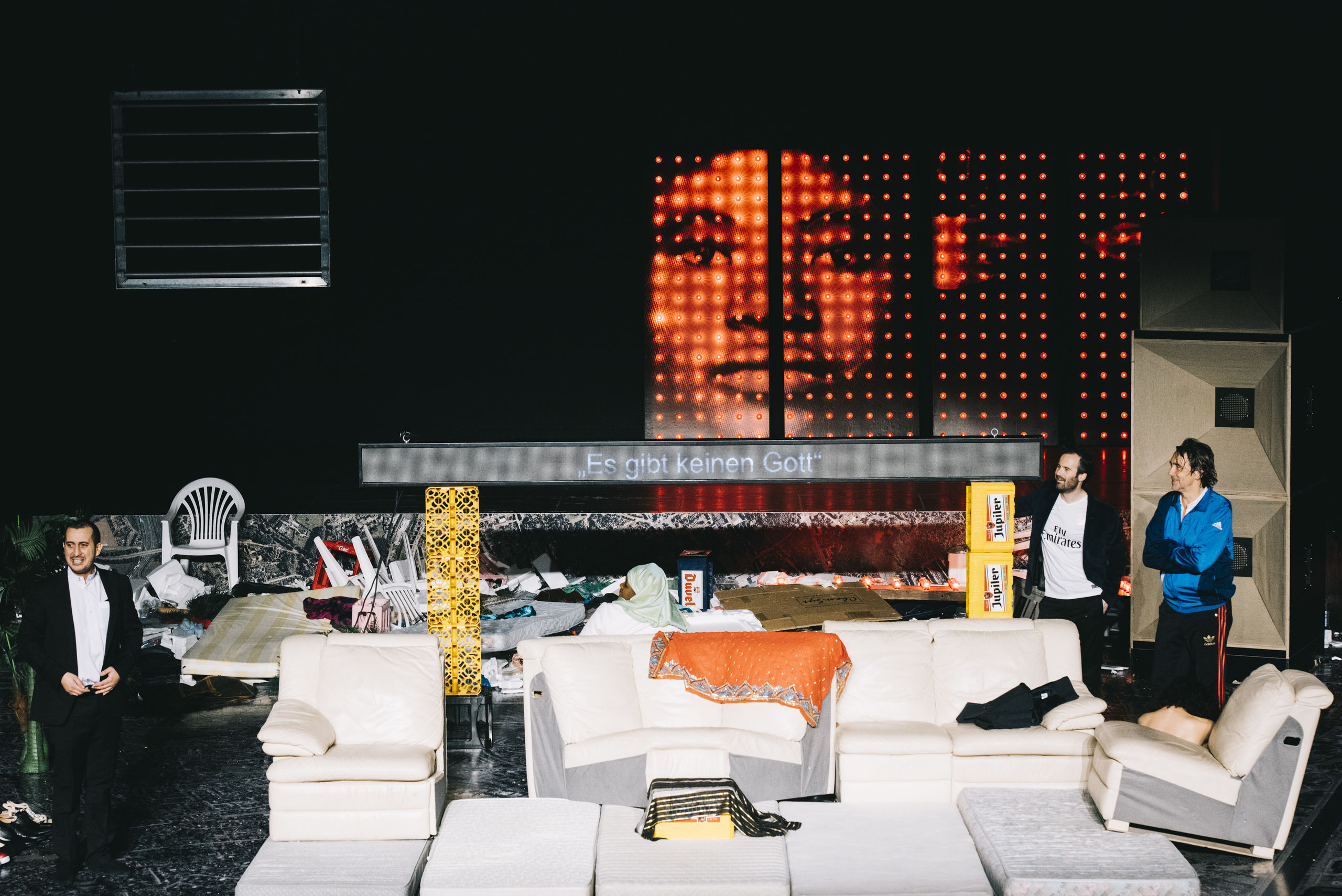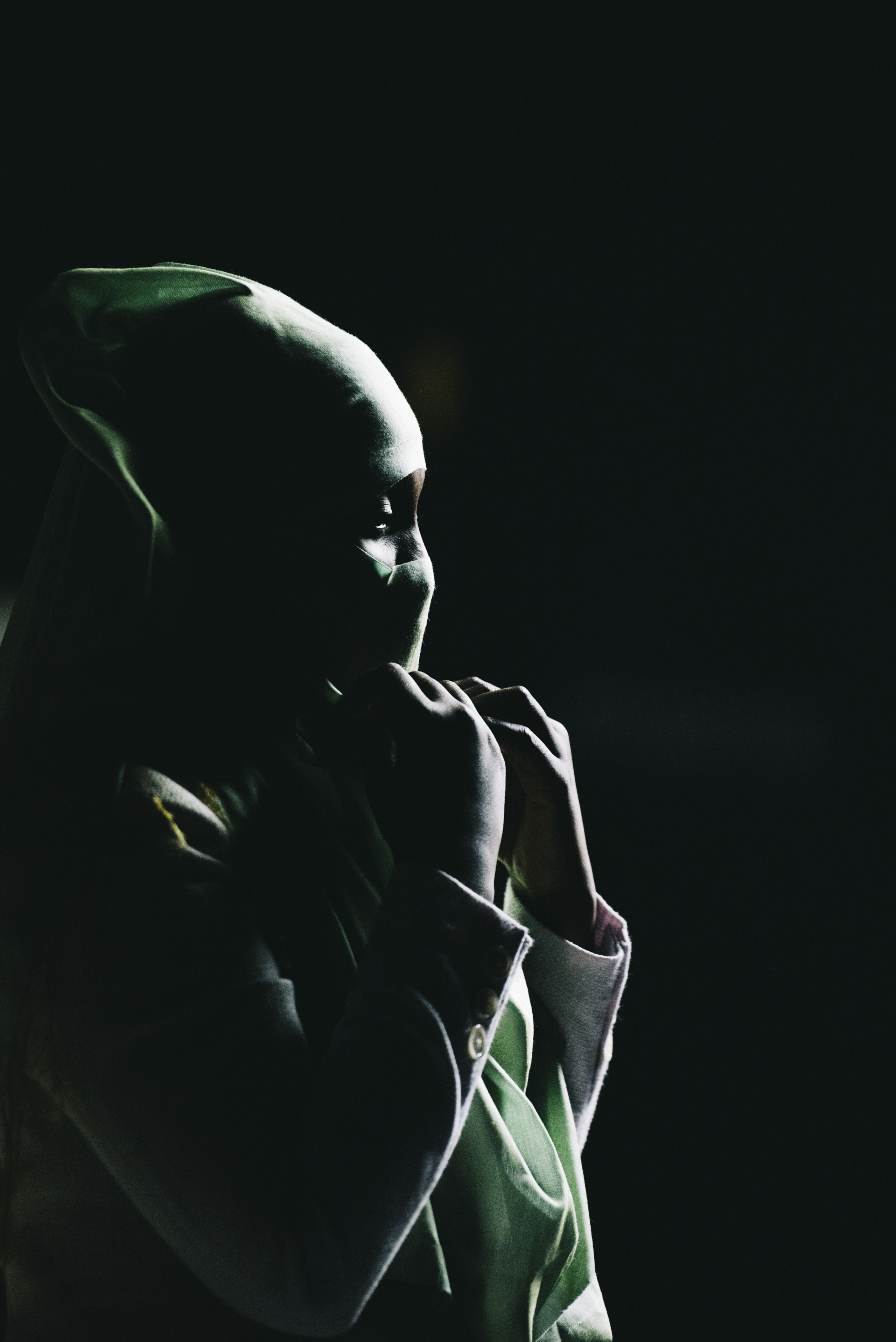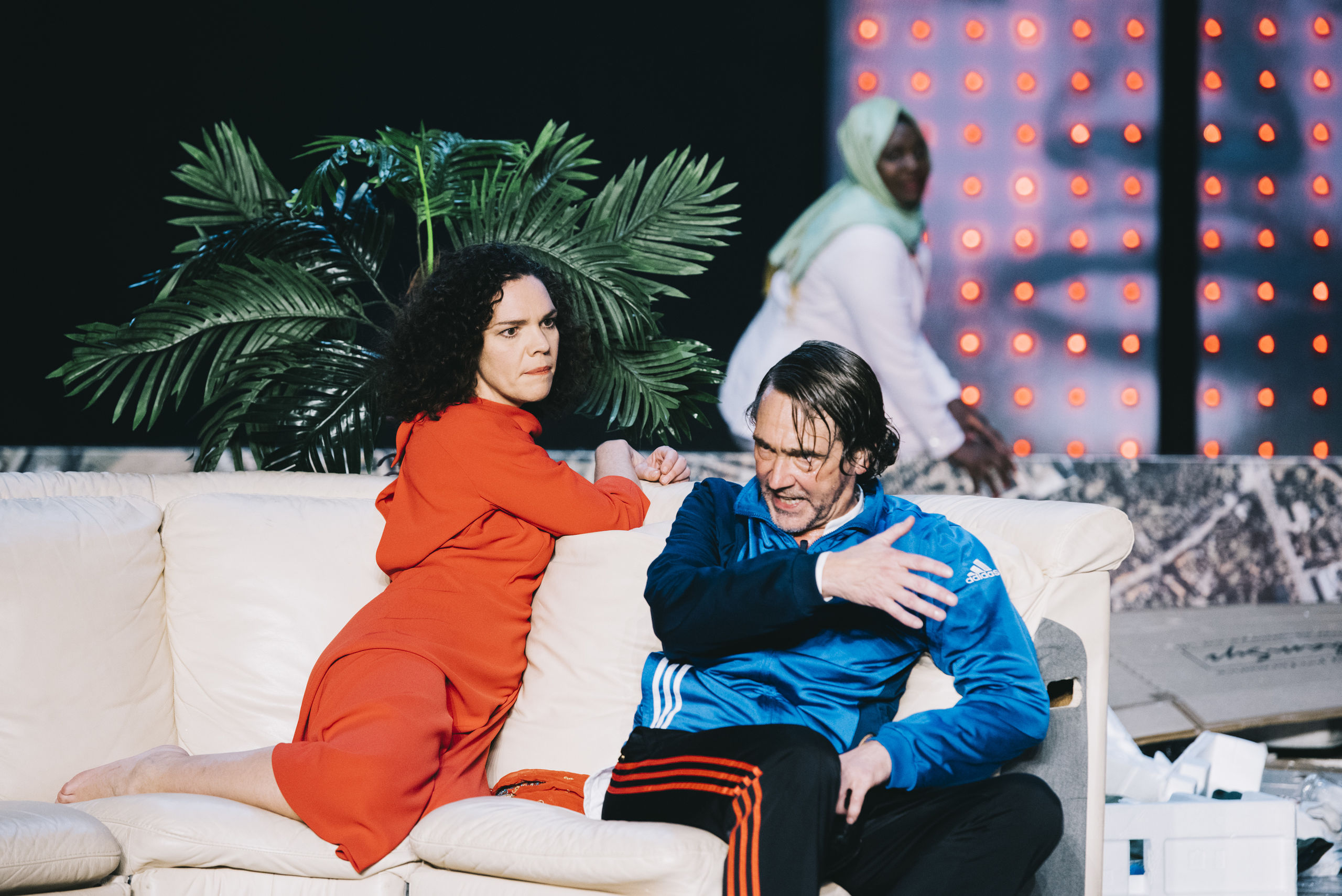 The first production of Unterwerfung was created in 2017 in cooperation with NTGent and Action Zoo Humain and Chokri Ben Chikha.
Press voices:
Johan Simons inszeniert unangestrengt präzise, leichthändig, mit vielen kleinen schillernden Brechungen.
FAZ, Andreas Rossmann
Der Stoff: hochpolitisch, brisant. Die Inszenierung: spielerisch, intelligent. Ein toller Abend.
WDR Westart, Peter Scharf
Ein unglaublich sprühendes, spielwütiges Ensemble – wie eigentlich immer bei Johan Simons – immer wieder Euch überraschende Bilder, auch melancholische Bilder, in denen alles mal zum Stillstand kommt.
WDR 3 Mosaik, Stefan Keim
More press voices
Ein durchaus aufrüttelnder Theaterabend auf hohem spielerischen Niveau.
WDR 3 Mosaik, Stefan Keim
Houellebecq und seine Psychopathologien des schlappen westlichen Mannes in einer herrenlosen Schöpfung sollten auf kleiner Flamme garen. Das gelingt in Bochum meisterhaft.
kultur.west, Andreas Wilink
Lässig großzügig, in höherer Heiterkeit und zauberischer Ironie schafft Simons souverän einfache szenische Auflösungen für Situationen und Kombinationen.
kultur.west, Andreas Wilink
Moog und Hunstein waren Erste unter Gleichen in einem internationalen Ensemble, das gleichfalls Darstellertheater 'vom Feinsten' zelebrierte.
WAZ, Jürgen Boebers-Süßmann
Plattform und Unterwerfung sind keine theaterkost für den Sofortverzehr. Es sind Aufführungen, die fordern, die einen bedrängen. Und die einen nicht so leicht loslassen.
WAZ, Jürgen Boebers-Süßmann
Ein bitterböses, mitunter krachend komisches Untergangs-Crescendo.
taz, Regine Müller
Simons reduziert Houellebecqs mäandernde und manchmal bewusst zur Geschwätzigkeit neigenden Romane virtuos auf ihre Essenz: Auf die sexuelle Frustration des ausgebrannten, von Konsumsucht und Leistungsdruck ermüdeten Westeuropäers mittleren Alters sowie die dumpfe Bedrohung, die vom Aufstieg des Islam und den fatalen Verheißungen politischer Radikalisierung ausgehen.
taz, Regine Müller
Johan Simons und seinem Team ist mit diesem verblüffenden, nämlich gar nicht provokant wirkenden Abend ein weiterer Coup gelungen. Und das liegt vermutlich daran, dass der bärbeißige Schalk des Niederländers mit dem düsteren Witz des Franzosen auf eine merkwürdige Art harmoniert.
Süddeutsche Zeitung, Martin Krumbholz
Subtil lässt Johan Simons das perfekte Außenbild immer wieder umschlagen in eine ethische Schauergeschichte von reichen, überdrüssigen Westeuropäern, die sexuelle Ausbeutungsparadiese zur Profitmaximierung erschaffen, nur weil sie es eben können.
Theater heute, Dorothea Marcus